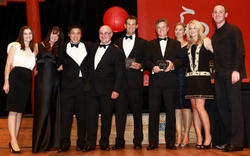 (PRWEB) March 9, 2010
For the first time ever, a search marketing category has been included in one of the biggest marketing awards competitions in New Zealand - the Marketing Association's RSVP and Nexus awards.
Search marketing specialists SureFire Search won the award in question, 'Best Use of Search Engine Marketing', for SEO (search engine optimization) work it had done for TVNZ, New Zealand's leading television broadcaster.
In upgrading its news, sports and entertainment website, TVNZ wanted to increase the number of visitors that were coming from search engines. To that end, TVNZ engaged SureFire Search to ensure that SEO was an integral aspect of website design and build, rather than a retro-fitted afterthought.
As a website publisher, TVNZ generates revenues from advertisements carried on the website and these revenues are directly related to visitor numbers and page views. The more visitors and the more pages they view, the greater ad revenue generated. Since starting the SEO project TVNZ has seen a significant increase in organic traffic from search engines.
Tom Cotter, General Manager of Content and Delivery for TVNZ, says the company was impressed with the campaign's execution and results: "The TVNZ website has experienced significant increases in traffic since the re-launch. A key element of this growth has been driven by organic search traffic, which is now one of our largest sources of visitors."
Managing Director of SureFire Search, Mark Sceats, says that while the company is delighted with the win, he also views the inclusion of the award as a victory for the entire industry. With search marketing continuing to take bigger and bigger slices of the online spend pie, he hopes this heralds a shift towards serious acknowledgement of its vital and growing role within business circles.
"In New Zealand search marketing doesn't get the recognition it deserves," says Sceats. "Fortunately, that's starting to change."
Currently New Zealand businesses make less use of search marketing, and online marketing in general, than in more mature markets. However this is changing as marketers increasingly factor search into their marketing plans. "I think in the next couple of years online advertising will boom in NZ and the growth will be lead by search marketing, as has happened in the UK and Australia" said Sceats.
It's a viewpoint strongly backed by the statistics. Even in an economy tightly squeezed by the recession, total New Zealand online spend for 2009 was up 10.8% over 2008, with Search Marketing increasing a massive 31.6%.
###