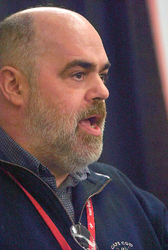 the tactic known as SEO PR
San Jose, CA (PRWEB) August 14, 2008
Greg Jarboe, the president and co-founder of SEO-PR, will share two case studies during the Video Search Engine Optimization (VSEO) session on Monday, Aug. 18, 2008, at 2:45 p.m. during Search Engine Strategies (SES) San Jose. Jarboe will also ask the search engine marketers attending the SEO conference a provocative question: "Is YouTube the top video search engine or the top video sharing website?"
According to comScore Video Metrix, Google Sites once again ranked as the top U.S. video property in May 2008 with a 35 percent share of the more than 12 billion online videos viewed by Americans that month. YouTube accounted for more than 98 percent of all videos viewed at Google Sites, attracting 82.2 million viewers, who watched 4.1 billion videos.
Jarboe says, "YouTube is now hosting about 83.4 million videos and receiving another 13 hours of new video from users every minute. In addition, 57 percent of online video viewers share links to the videos they find online with others. So, we've developed a new and useful process along with some inventive tools for two of our clients to enable people to discover, watch and share our originally created videos with the leading online video community."
STACK Media case study:
The first case study that Jarboe will share at SES San Jose features STACK Media, the nation's leading producer and distributor of sports performance, training and lifestyle content for high school athletes. SEO-PR has optimized and uploaded 137 videos to the STACKVids, STACK Football, STACK Baseball, and Stack Basketball channels on YouTube, which presents expert sport workout tips and inside stories from the world's premier athletes.
For STACK, John Mulligan of SEO-PR invented the Program Director. Co-developed with Joe Christopher of Blast Advanced Media, the SEO-PR Program Director is a video SEO tool, an upload scheduler and a YouTube batch uploader that enables users to optimize and upload videos all at once or at staggered days and times.
Nick Palazzo, STACK Media's Co-Founder and Co-CEO, said, "The Program Director lays out multiple videos on a grid so you can organize your best keywords and structure your video optimization program. We also save time by uploading in batches and scheduling our uploads - letting us test the days and times of day to maximize success, just as with our other online marketing efforts."
Search Engine Strategies (SES) case study:
The second case study that Jarboe will share features SES, the leading global conference and expo series that educates delegates on search engine marketing (SEM), including optimization (SEO) and advertising strategies, tactics and best practices. SEO-PR has optimized and promoted 131 videos on the SES Conference Expo Channel, which features video interviews from SES London 2008, SES New York 2008, SES Toronto 2008 and other marketing events.
For SES, Mulligan invented the Online Publicist. Also co-developed with Blast's Christopher, the SEO-PR Online Publicist is an automated email notifier that lets users individually contact lists of friends and colleagues and direct them to a customized micro-site featuring a user's newest videos. It is also a video widget that encourages online publishers and popular bloggers to embed SES videos on their sites and offers them the option of upgrading to a video player widget that can be tailored for their viewers.
Matt McGowan, Global VP of Marketing for Search Engine Strategies, an Incisive Media property, said, "The Online Publicist uses email marketing best practices to help users send a truly personal note to someone they've interacted with notifying them that a new video specifically of interest to them has just been posted. It also increases YouTube views by encouraging online publishers and popular bloggers to give greater visibility to your online video content, or to make you one of their ongoing video content providers. We're excited to be integrating online video and social media relations so seamlessly into our online media relations campaign."
About SEO-PR:
Founded in March 2003, SEO-PR is a search engine optimization firm, public relations agency and video production company. With offices in San Francisco and Boston, SEO-PR provides search engine optimization (SEO), public relations (PR) and video search engine optimization (VSEO) services, consulting and training.
SEO-PR has been praised for "focusing on search as a public relations tool" by Danny Sullivan, Editor-in-Chief of Search Engine Land, and credited with pioneering "the tactic known as SEO PR" by Tad Clarke, Editorial Director of MarketingSherpa.
SEO-PR has won a Golden Ruler Award from the Institute for Public Relations and PR News. SEO-PR is also a finalist for SES Awards in three categories: Best Social Media Marketing Campaign, Best Business-to-Business Search Marketing Campaign, and Best Integration of Search with Other Media.
###