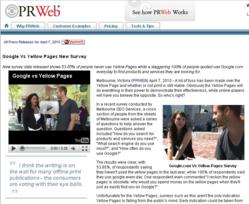 Without doubt, press releases still represent one of the best value for money SEO tactics
Melbourne, Victoria (PRWEB) May 23, 2012
Google's recent Panda and Penguin updates sent shockwaves throughout the SEO world and online community as a whole. While many SEO practitioners are still reeling, Melbourne SEO Services reveals there is a simple, yet powerful solution for how to recover from these changes and not run afoul of Google: SEO Press Releases.
Renowned Internet marketing professional and Director of Melbourne SEO Services, David Jenyns, explains, "With all of the recent changes at Google, a lot of SEO providers are coming unstuck because they've been guilt of employing 'shady tactics' to boost their clients' rankings".
"And quite simply – these tactics are just what Google has got in its sights. While Penguin has gone directly after spam techniques, Panda has low quality content as its main target."
While many business owners are clamouring for the solution of how to get their profit-driving keywords back in Google's good books, SEO Press Releases remain a powerhouse in the world of SEO.
As Mr Jenyns reveals, "The one thing that has stood out and stood the test of time are press releases, because quite simply Google loves them!"
"Press Releases are the way that news is spread and as such tick the boxes for Google's strict quality standards because they're relevant, useful and completely devoid of spam."
In the wake of Google's Penguin and Panda rollouts, Melbourne SEO Services report that they have noticed an increased demand for press releases from clients.
"Without doubt, press releases still represent one of the best value for money SEO tactics and the amount of clients coming to us asking for press releases is growing each day."
"These companies see the inherent value in them because they understand their two main benefits. Not only is it great for your SEO because it can create a huge amount of backlinks and traffic to your site, but you have the added bonus of being able to get picked up in local media and feature on TV, radio, print media and high calibre online news sites."
The Power of SEO Press Releases
Due to their joint ability to both improve SEO and create media attention, using Press Releases can be one of the most effective forms of marketing that a company will ever undertake, and when done correctly, can provide one of the best returns on investment.
Melbourne SEO Services have had over 7 years experience in structuring, optimising and distributing highly effective press releases and have generated noticeable results for many of their clients.
Companies interested in utilising SEO Press Releases to kick-start their recovery from Google's Penguin and Panda updates can visit http://www.melbourneseoservices.com for more information.
About Melbourne SEO Services
MelbourneSEOServices.com have one mission: to get their client's websites to the top of the search engines and ultimately help them make more money.
As one of Australia's leading SEO companies, Melbourne SEO Services remain at the forefront of SEO practices and provide their clients worldwide with an array of services that includes search engine optimisation Australia, link building, article distribution, SEO Press Releases, Google Places listing, Melbourne video production and Internet marketing consulting.