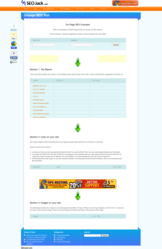 This Free SEO tool saves SEO professionals and those looking to improve their websites a TON of time
Tampa, FL (PRWEB) September 30, 2011
SEOJack.com's Onpage SEO Tool is very easy to use. One simply enters the exact url of the page they are trying to increase rankings for, and the keyword they are targeting. The tool then fetches and analyses how well the following data is optimized:

The webpage Title Tag
The length of the Title tag
The meta description
The Header tags
The keyword usage on the page
Other suggested keywords to seek based on the content of the page
The difficulty of the keyword
Meta keyword tag
Pages indexed in Google
Google PageRank of the page and the root domain
The SEO tool also displays in a grid each and every outgoing hyperlink on the page, the anchor text, and whether or not it is Dofollow or Nofollow. This is great for uncovering unknown links that exist on the page, or hidden links injected by hackers. Also, it allows users to see outbound links that should have a Nofollow tag if they are not pointing internally to their own website.
Additionally, the tool will display in a grid each and every image on the page, and the ALT text. If there is no alt text, it will show an alert.
To summarize, this free SEO tool saves SEO professionals and those looking to improve their websites a ton of time. Instead of shifting through source code to find SEO mistakes, this tool uncovers them all in one easy to read display.
Another tool SEOJack has released is the free Privacy Policy Generator. It is a little know fact that having a Terms of Use/Privacy policy is critical to achieving Google rankings, as Google checks for this page when evaluating how trustworthiness of a website.
If a website does not have a Privacy Policy that Google can find, the website gets docked points and may not rank as well as it could in the search results.
To use the Privacy Policy Generator, one simply enters their legal company name and their State. The tool does the rest and gives that user an html code they can paste right into their webpage.
SEOJack.com will be creating more Free SEO tools in the future and adding them to their Free SEO Tools page.
###