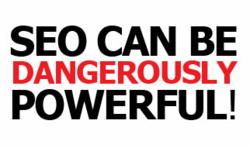 Search Engine Optimization is a Double-Edged Sword.
(Vocus/PRWEB) March 30, 2011
While many small businesses rush to use the power of the net to gain new online visitors and customers through Search Engine Optimization, an SEO specialist wonders if all these hasty Search Engine Optimization steps are leading to a disaster.
To the uninitiated, Search Engine Optimization (SEO) is the process of improving the visibility of a website in search engines and often small businesses employ the services of SEO Consultants to improve their site's ranking online, so that traffic and sales from search engine users can follow.
As Kishore shared, "Last week I was sitting with a friend whose retail-business had collapsed because his website had disappeared from the front page of a major search-engine, when I realized how vulnerable small business sites were. Like many small business owners, he had fallen prey to a smooth-talking SEO expert who promised him quick ranking on all search engines."
Kishore added, "The sad part of the situation was that the unethical SEO consultant that my retail business friend had used, did manage to catapult his site to the top of Google, Yahoo and Bing. As soon as the site reached the front page of all 3 search engines, my retail friend's business was flooded with new orders, and in his delight he made the mistake of shutting off all other marketing channels."
"Many small business owners have no clue about SEO," Kishore explained, "and don't realize that artificial ranking can be achieved through black-hat techniques like blog commenting, bookmarking, video blasting and backlink farming. But Search Engines have smartened up and sniff out such sites quickly. By the time the Small Business owner realizes his site has been de-indexed or pushed out by the search engines, he would have invested a lot in his SEO effort or come to rely on online channels for sales. Both can be fatal for a small business."
"The only way to retain consistent top ranking," says Kishore, "is to provide relevant information and true value to customers. If you know what your customers want and can cater to their needs, your site is automatically qualified to be on the front page. All search engines are trying to provide their users with relevant information and if your site is the one that is most relevant to their user, your site has a good chance to take the top position."
When done with scientific precision, SEO can outrank every other channel of marketing and yield amazing results within short periods. Search Engine Optimization is particularly effective for businesses that need to acquire customers at a very low cost.
To know more about powerful SEO strategies and how it can explode small business profits, visit instantSEOsystem.com or reach Kishore Dharmarajan directly at (+97150) 698-6164.
For media inquiries, please visit instantSEOsystem.com/media-room for immediate download of the Instant SEO System media kit.
ABOUT:
Kishore Dharmarajan is an SEO Specialist and author of 3 books including the upcoming 'Sniper Marketing'. Besides working with diverse companies as Search Engine Optimization consultant, Kishore holds seminars and has spoken in front of thousands of people on topics as SEO and Small Business Marketing. instantSEOsystem.com
###