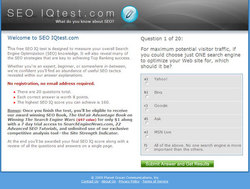 The UnFair Advantage Book on Winning The Search Engine Wars
Kailua Kona, HI (PRWEB) August 24, 2009
Kailua-Kona, HI (PRWEB) August 24, 2009 -- If everyone claims to be a Search Engine Optimization (SEO) expert, then why is there so much bad, conflicting, and often misleading information on a topic that is so critical to one's Internet marketing success? Planet Ocean, the authors of the award-winning "UnFair Advantage Book on Winning the Search Engine Wars," the first-ever book written on SEO back in 1997, has just released http://seoIQtest.com to, in a sense, separate the men from the boys.
The free 20-question SEO IQ Test is designed to measure one's overall Search Engine Optimization (SEO) knowledge. In the process, the test also reveals many of the SEO strategies that are key to achieving top ranking success in the search engines. The test covers topics ranging from on-page optimization, to link building, to social media, and provides a final SEO score to evaluate the test-taker. The highest score possible is 160 and the completed test provides a full review of all the questions and answers on a single page.
"Whether you're an expert, beginner, or somewhere in-between, we are confident you'll find an abundance of useful SEO tactics revealed within our answer explanations," said President of Planet Ocean Kristi Hagen. "Not only have we been publishing the industry-leading newsletter on Search Engine News since 1997 but as SEO's ourselves we know what it takes to succeed online organically. If you are serious about keeping your SEO skills sharp, this is the test for you."
As a reward for taking the SEO test, interested search engine marketing professionals will be eligible to receive Planet Ocean's award winning SEO Book, "The UnFair Advantage Book on Winning The Search Engine Wars" ($97 value) along with a week long trial access to premium SEO training site SearchEngineNews.com for only $1. This professional SEO site includes access to everything you need to become an SEO expert, including the latest search engine strategies, access to their industry leading team of SEO experts, and exclusive professional SEO-quality analysis tools, including their Site Strength Indicator competitive analysis tool.
As the Internet continues to evolve, ranking a Web site at the top of Google and the other major search engines has been, and will continue to be, a constant battle for any serious marketer who desires to own their niche in the online marketing space. The tactics that worked with Google, Yahoo, and Bing last year, are more advanced this year, and will continue to be year after year as the search engines battle for market share and the perception of providing the most relevant search results. Stay on the frontlines by gauging your SEO battle-readiness today!
For anyone who claims to be an SEO expert or for anyone who simply just wants to gauge their knowledge of the SEO space, check out http://www.seoIQtest.com online today!
About Planet Ocean Communications:
Planet Ocean Communications, Inc.'s primary focus is to simplify the complexity of doing business online. They specialize in revealing and simplifying search engine strategies and gear their services toward online marketing professionals to give them a competitive edge. Since 1997 Planet Ocean has revealed every strategic detail for ranking at the top of the major search engines. Their readership is 100% subscriber based and, their flagship publication, http://www.SearchEngineNews.com, is the longest running subscription-based publication on the Internet. Their Award-Winning SEO Book, 'The UnFair Advantage Book on Winning The Search Engine Wars', (visit SearchEngineHelp.com) is the most comprehensive and up-to-date search engine book in the world! It continues to be updated every month since its original publication in February 1997.
# # #