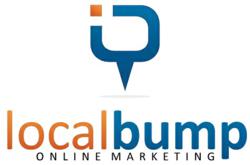 "It feels good to be recognized as a leading local SEO company. We are confident we have an affordable plan to give clients quick results." -Dan Edmund, Owner
Salt Lake City, UT (PRWEB) April 19, 2012
Local Bump, a local Internet marketing firm based in Salt Lake, Utah announced the Award for Top SEO Firms from premiere local search engine optimization award body TopSEOs.com. Local Bump was ranked number 5 against hundreds of competitors across the country on April 2 this year.
TopSEOs.com evaluates search vendors and recognizes local search engine optimization companies in the Internet marketing industry. Their meticulous evaluation process makes the award a coveted one for local SEO vendors. In the process TopSEOs.com reviews portfolios and contacts clients for an evaluation of their experience with the vendor. The information is eventually compiled, and the top companies are ranked based on five key areas: needs analysis, keyword selection, optimization, localization, and reporting.

Needs analysis. The vendor designed strategies based on the customer's objectives.
Keyword selection. Appropriate keywords for local market based on regional dialects, etc.
Optimization of a site both on-page and off-page.
Localization of work. Effectiveness of a vendor in targeting the market identified by the client.
Reporting. Providing clear, understandable and development-oriented reports to their clients.
"It feels good to be recognized as a leading local SEO company. We are confident we have an affordable plan to give clients quick results," exclaimed Dan Edmund, owner of Local Bump after TopSEOs.com announced the award.
About Local Bump
Local Bump is a local search internet marketing firm located in Salt Lake City, Utah focused on driving traffic and conversions to their client's websites through search engine optimization (SEO), Pay-Per-Click (PPC) management, e-mail, social media marketing and other forms of internet marketing. Local Bump is a Microsoft AdExcellence Member, recognized by Top SEO for Best in Search, and is also Google Adwords certified.
To learn more about Local Bump and their services, contact Erica Hatch at (800) 894-7265 or by email at erica@localbump.com.