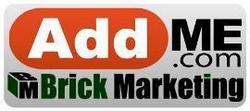 Boston, MA (PRWEB) July 21, 2009
Recently Brick Marketing has joined forces with internet giant AddMe.com to offer a new search engine optimization training webinar aimed at providing assistance in the field of internet marketing and search engine optimization.
Search engine optimization or what some people refer to as SEO has become a very hot topic of discussion over the last few years for any business or entrepreneur looking to take a more aggressive stance with their internet position. Although SEO is very important it can also be out of reach for many new online businesses due to the lack of consistency in pricing methods across many internet marketing firms. Many businesses find themselves out of luck when trying to come up with a budget to fit search engine marketing into their business model. More and more individuals and businesses are looking to be able to execute many of the SEO efforts themselves whether it be through an in-house department or the owner of that small business. Brick Marketing has been offering SEO training for some time now and has recently joined forces with search engine submission giant AddMe.com to provide a learning tool that is much more cost effective for many new businesses.
SEO is tricky in the sense that it is very dynamic and always changing. Many business owners are worried that they will end up making things worse for themselves and the fear begins to hold them back from ever moving forward. This online SEO webinar is designed so that any and all questions can be answered regarding SEO. This is a great way to learn the ABC's of search engine optimization in order to get your online business or website off the ground and in front of your target audience. With this webinar you can learn all the basics on how the search engines work and what they want to see in order for web pages to rank. Brick Marketing will also teach attendees how to write well written copy that is great for readers and search engines. They will be also touching upon very important items like how to effectively conduct keyword research and what to do with those important keywords once you have all your targeted words. The webinar will be conducted by Brick Marketing's president, Nick Stamoulis and he will be teaching attendees how to write efficient meta tags and what H1 tags are and how they impact the rankings of a website. Brick Marketing will also go over in detail a case study to show all attendees what the natural progression is like when conducting an SEO campaign for any website.
To learn more about Brick Marketing and AddMe, please visit their websites at the following links:
http://www.brickmarketing.com
http://www.addme.com
To register for the SEO Webinar Training, please visit http://www.addme.com/search-engine-optimization-training.htm .
Media Contact:
Nick Stamoulis
781-350-4365
addme (at) brickmarketing (dot) com
###