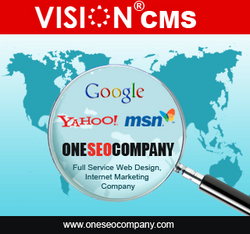 Dallas, TX (Vocus) July 29, 2009
Dallas based One SEO Company is taking law firms, small businesses, and other revenue generating entities by storm, with unique solutions for building their web presence. Working on the motto that a recession should not hinder the progress of companies, the Internet marketing agency has re-launched its website to showcase a new line of services offered for those seeking more return on their marketing investment.
Vision Smart CMS Technology
Vision Smart News Technology is the cornerstone of new offerings, designed and customized solely for One SEO Company clients. The technology is part of a content management system package that puts the power of blog distribution, content sharing, and other web 2.0 / visibility creating items into the hands of firms. Other offerings include small business web site design with CMS and re-design, blog website design, social media services, professional content writing, news distribution, and other services necessary for generating a greater base of clientele.
About One SEO Company
One SEO Company is a full service online marketing boutique agency that caters to the needs of law firms, corporations, medical professionals, real estate professionals and anyone else in need of effective web based marketing. With the Internet being at the forefront of any successful marketing campaign, any revenue generating enterprise in any field or industry today can yield tremendous benefit from utilizing the company's services. Clients are also provided with access to the services of a certified Google analyst and expert in SEO.
One SEO Company invites professionals in every arena to contact them today by visiting http://www.oneseocompany.com for a free consultation with a search engine optimization expert, and see how their advanced solutions can lead to increased revenue for their operations.
One SEO Company uses ethical organic search engine optimization strategies to improve website page rankings. Many use costly methods that often do not provide customers with realistic, long-term possibilities for getting their web pages indexed properly. However, One SEO Company methods are tested and proven to yield actual results for clients, helping them achieve number one rankings on Google, Yahoo, and Bing
For more information about One SEO Company or the services they provide, please visit http://www.oneseocompany.com, or call 1-888-623-6996 toll free to speak with a specialist directly.
###