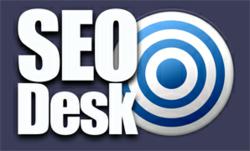 Wow what a month not only did we get page 1 for "search engine optimisation" but we also got a record number of new clients.
London (PRWEB UK) 5 April 2013
March 2013 may have been the coldest March in the United Kingdom for over 50 years but for some companies, it was a month where they were hotter than ever before. SEODesk had their best month, welcoming a record number of new clients in a calendar month and reaching page 1 for the term "search engine optimisation". As the rest of the nation shivered in the unseasonal cold, team members at the company were being forced to dress in holiday clothes due to the heat that was being generated with the increased workload.
There are a great number of options to choose from when looking for SEO support so it makes sense to choose a firm that is found ranking highly for this term. Being ranked highly on search engines can often be the difference between success and failure for an online business and this is not a business area that a firm should take a risk on. This is an area where success and track record counts for a lot which is why SEODesk were able to welcome as many new customers that they did in March.
One of the key strengths of any reliable search engine optimisation company, like SeoDesk, lies in their versatility. An SEO firm needs to be able to meet the demands of a wide-range of customers all with their own business products or services to promote. The diversity of firms that SEODesk have been supporting indicates that consistency in different business areas can make all the difference.
Abalabels have been operating since 1999 but in the modern online environment, they required support to ensure that online customers were finding their services. The quality and support provided by the company left them confident that they could meet the needs of their customers; they just needed to ensure that they could be found. This is where SEO support helped to ensure that Abalabels were the number one choice for "car window stickers", "vinyl stickers" and "sticker printing".
Getting words and terms to stick to a search engine ranking page is often the hardest part. Many firms find that they can rocket up the SEO charts quickly but sadly find that their decline is just as rapid. Headboards By Design knew that they wanted online search engine staying power to match their bespoke quality headboards and upholstered headboards. They benefitted from a sustained SEO support, including content updates and keyword focus.
It is not just existing companies that can benefit from high quality SEO though; new firms can find that the best way to make an impact on the market is through working with a professional SEO firm.
Wholesale Jewellery Trend's may be at the cutting edge of hip-hop style and fashion, selling urban and bling products around the world but their expertise lay in finding high quality products at low prices for wholesalers. Working closely with SEODesk, the firm ranked quickly and highly for wholesale jewellery and wholesale watches, raising their profile and helping them to expand into new markets.
While wholesale jewellery can represent the immediate and short-term market, high-quality interior kitchen design work represents the opposite end of the spectrum. However, Rusper Interiors, the kitchen Surrey design professionals were able to benefit from the same professional SEO experience as any emerging firm with a contemporary product. This is an area where online research is an essential part of any buyer's activities and the firm ranked strongly for terms like "kitchen design Surrey", "kitchen designers Surrey" and "kitchens Guildford".
It is also important for firms that have an edge to their business to make sure that potential customers know what they provide. Hallstone are a waste management firm with an extremely environmental focus. The company has achieved great success by being strongly ranked for terms such as "cheap topsoil", "cheap turf", "bark mulch", "garden gravel" and sandbags.
In the current climate, all business expenditure has to provide value for money, which is why it makes sense to work with the professionals who are achieving the best results. While March 2013 is written in the record books for SEODesk, the bar has been raised to do it all over again in April, May and throughout 2013.