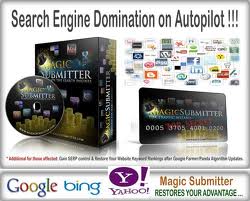 Insofar as a blog or business needs to rank high to earn income, Magic Submitter is probably the best of its kind for building quality backlinks for small-to-mid-sized companies
(PRWEB) December 13, 2012
Magic Submitter creator Alexander Krulik debunks the myth that "whoever has the most backlinks, wins." Drilling down a bit, he asserts that the truth about backlinks is not just quantity alone, but three qualities of backlinks that must draw focus:
1. Number of backlinks (yes, this is important, but not exclusively)
2. Variety of backlinks
3. Consistency of backlinks
These are the backbone of the Magic Submitter software's logic. With variety and consistency added to volume, Magic Submitter makes every backlink count.
With this unique focus, Krulik claims his Magic Submitter software can rank almost anything atop Google, Yahoo, and Bing by using his "unfair advantage" - that is, by aggregating and submitting with exponential scale, and doing so with complete ease of use.
States John Taggart of Reviews-Domain.com, "How does Magic Submitter line up on the risk/return frontier? Very well, we've concluded. Insofar as a blog or business needs to rank high to earn income, Magic Submitter is probably the best of its kind for building quality backlinks for small-to-mid-sized companies."
Click here for the Magic Submitter website or HERE for the full review.
Reviews-Domain.com is a broad-sweeping review site, where author, editor, and person of many interests John Taggart shines the limelight on products of every persuasion. John has always been a bit of a Renaissance Man and seems to have a knack for nuance, so we suggest you tune in when he profiles a product for review.