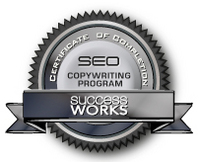 "This SEO certification I have gained means I can now provide my clients with the latest search engine optimization writing expertise."
London, UK (PRWEB) February 8, 2011
Freelance marketing copywriter, Carole Seawert, has gained certification as an SEO writer, having successfully passed the Success Works SEO Copywriting Certificate program with a score of 95%.
The online program, run by US-based Success Works, teaches participants everything they need to know about writing for search engines - from how to research the right keyword phrases so they drive massive web traffic, to techniques for tweaking existing web copy that will propel a site right up the search engine rankings.
Commenting on her new status, Carole Seawert said: "I already knew the basics of where to put keywords in web pages but I wanted to develop in-depth SEO writing skills. The eight online modules of the Success Works course have given me exactly that and this certification has given me a valuable added string to my copywriting bow.
"As a freelance copywriter, it's vital to keep my skills up to date," she continued. "Being able to offer this new service will ensure I can provide my clients with the latest search engine optimization writing expertise."
Students study the course in their own time and have access to an online forum and regular webinars. When they have completed the program, they take an online exam which - once passed - will give them certified status.
Notes to Editors
Carole Seawert is a UK-based, freelance copywriter who writes all kinds of marketing materials, from websites and brochures to e-newsletters and mailshots. She is a strategic thinker who interrogates a client's brief with intelligence. The companies she writes for cover a range of market sectors and include the Financial Times Group, Sony Ericsson, Hitachi, Caterpillar Logistics, Orange, City of London Police and Capgemini.
She has been freelance for many years and draws on this experience to write her blog, Freelance Factfile. This provides valuable information to the growing number of people who have opted to pursue a freelance career - whether they are veteran freelancers or still thinking about taking the plunge to go it alone.
###