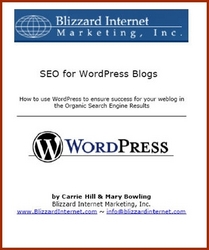 Glenwood Springs, CO (PRWEB) February 19, 2008
Blizzard Internet Marketing, Inc. is proud to announce the release of their latest free marketing whitepaper, "SEO for WordPress Blogs" by their in-house Search Engine Optimization team, Carrie Hill and Mary Bowling. Learn why Blizzard Internet Marketing advocates using one of the best platforms for building an SEO friendly website, and how to set your own website up for success.
Blogging is the wave of the future, but not all blog platforms are built alike. While there are many options to choose from, if one wants their blog to be user and search engine-friendly, WordPress should be a first choice. The white paper will tell why and explain how to use it to perform better in the Google Search Engine Results Pages (SERPs).
This easy-to-use, 14-page how-to guide will tell you about our favorite WordPress plug-ins for Search Engine Optimization and what advantages they will give your blog. It will tell you how to:
*Set your WordPress blog up for Success
*Start Blogging the RIGHT Way
*Promote your Blog across the Internet
*Use Plug-ins to increase SEO functionality
It's easy to download all of Blizzard Internet Marketing's white papers.
If you've got a great Wordpress tip, read the white paper and email it to at the address given on page 12. Blizzard Internet Marketing will feature your tip and give you a link from our Blizzard Newsletter Blog. It's in Wordpress, of course.
###