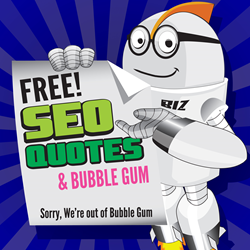 Our custom SEO Quotes are designed to help business owners understand the inner workings of SEO & how it will help grow their business. Most importantly, giving them the tools to make an informed decision, says Bryan Loconto - CEO – Boasting BiZ, Inc.
Fort Lauderdale, FL (PRWEB) April 18, 2012
Boasting BiZ, a Fort Lauderdale based SEO Company, has sprung to the digital forefront by upholding excellence in the company's provision of Search Engine Optimization, design, and print services that all together entail a unique and aggressive marketing campaign. The company offers three main services: effective, honest, and long-term Search Engine Optimization; a diverse array of unique and strategic web, logo, graphic, and print designs; and print services featuring anything from magazines and brochures to embroidery and presentation folders. The company's success is based on values of creativity, clarity of thought, and honesty of expression.
In a considerate and marketing-savvy outreach to the community, Boasting BiZ now offers detailed and dependable SEO quotes upon request. The company's team of SEO experts analyze a potential client's website and provide an estimate based upon the complexity of the project. Every quote is clarified and broken down with explanations as to how the price is concluded, and each website is carefully evaluated along with its closest and top competitors.
While Boasting BiZ recognizes the importance of SEO, many clients underestimate its value and return on investment. As savvy clients, however, we should appreciate the significance of a free quote, and what this shows:

Professionals offer free quotes. This implies the SEO Company's confidence that their care and quality will leave the client happy and willing to continue.
It also implies a professional company that uses intelligent marketing tactics and isn't afraid to lose a disinterested customer or two in the face of the many who will become enthused with the company's work.
The client receives a free—and, if done by the right folks—dependable SEO quote! First step of gauging his business' online presence: accomplished.
The client can assess the SEO service and judge if this is the SEO Company with which he wants to collaborate, or if he wants to try elsewhere.
The client can see if the SEO Company can actually meet his needs; every project and business is different, and has specific requirements. Usually it's not a question of siding with the most popular SEO service; it's a matter of finding one that caters best to the client's needs.
Other SEO companies provide similar services; it's best to keep abreast of the competition. Prices and results, of course, will vary!
In order to request an SEO quote, all you have to do is fill out a form on the Boasting BiZ website. Provided with some brief contact, website, and keyword information from you, the SEO experts will reply with a detailed and thoughtful quote concerning the project.