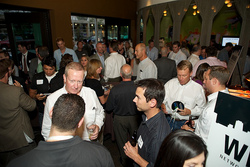 Not only do these events provide a fun and energetic atmosphere for networking, but they've provided an excellent introduction to other leaders in the Web hosting industry
(PRWEB) September 13, 2010
The Web Host industry Review (http://www.thewhir.com), the leading resource for information on the web hosting industry, is pleased to announce its schedule of WHIR Networking Events (http://www.whirevents.com) for 2011, beginning in Los Angeles, on Thursday, January 20.
The WHIR Networking Events are held in a series of locations around North America, designed to provide an opportunity for business networking. The WHIR has been organizing and hosting the events since January of 2009.
"We had tremendous success with our networking events in 2009, and tons of great feedback from attendees and sponsors," says WHIR publisher Stephen Mayhew. "And things have been even better this year. We're very excited to be able to reach some of the markets we haven't hit yet, and to revisit some of those that have been most popular."
Along with its schedule for 2011 events, the WHIR is excited to announce that three sponsors have signed on as title sponsors for the entire series of 2011 events. The 2011 title sponsors include domain registry operator and DNS services provider Afilias (http://www.afilias.info), hosting software and systems developer Parallels (http://www.parallels.com) and DDoS attack prevention technology firm RioRey (http://www.riorey.com).
"We've been pleased to work with the WHIR over the last year as a sponsor of many of their networking events," says John Kane, vice president of corporate services for Afilias. "Not only do these events provide a fun and energetic atmosphere for networking, but they've provided an excellent introduction to other leaders in the Web hosting, DNS and Internet infrastructure industries."
Presented in casual environments, with a cocktail party atmosphere, WHIR Networking Events provide web hosting executives and decision makers with a venue to make the kind of in-person connections that aren't ordinarily possible outside of the small number of major industry events scheduled each year. They are designed to contribute to a sense of local community within the hosting business.
"This is a great opportunity for Parallels to partner with one of the most reputable sources of news in the hosting industry," says Jack Zubarev, president of marketing and alliances at Parallels. "Helping hosting service providers profit from the Cloud has been the main focus of Parallels and the WHIR events are great venues for us to meet our partners and customers and share ideas and vision."
WHIR events are free to attend, with free food and drinks available, thanks to the generous contributions of sponsors.
"These events are a great distillation of everything we do as an organization," says WHIR editor in chief Liam Eagle. "They're a great opportunity for vendors to get their tools in front of hosting providers who are interested in what they're doing, and a great opportunity for hosts to make contact with those same vendors and ask the important questions about new opportunities for their businesses. They're also a ton of fun."
Beginning with Los Angeles in January, the 2011 schedule for WHIR Networking Events includes Dallas in February, New York in March, Chicago in April, Toronto in May, Cincinnati in June, Montreal in July, Scottsdale in September, Washington DC in October and Houston in November.
"RioRey is delighted to be a WHIR title sponsor for 2011," says Duncan Hume, vice president at RioRey. "The WHIR networking events, website and magazine media provide wide exposure to hosters across North America – a core market for our DDoS mitigation technology. RioRey's close partnership with the WHIR bolsters our drive to bring DDoS solutions to hosting providers."
More information on specific events, including venue details, driving directions and attendee lists is available at http://www.WHIRevents.com. Free registration for the events is available on the website.
###