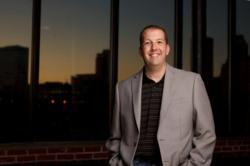 "Nathan provides you the fundamentals you need to get in the game and win!"

– James Malinchak, Featured on ABC's Hit TV Show Secret Millionaire, Co-Author Chicken Soup for the College Soul, and 2-Time College Speaker of the Year!
Atlanta, GA (PRWEB) February 29, 2012
A Tulsa-based motivational speaker, author, and business consultant is helping college students find their passion and make a difference. Nathan R Mitchell, Founder of Clutch Consulting, has recently been invited to speak at the Southeastern Panhellenic Association's Annual Conference in Atlanta, GA; a conference where hundreds of sorority sisters from the Southeast participate in four days full of workshops, education sessions and idea sharing.
Mitchell will be sharing his most booked talk on the college circuit, "Self-Leadership: Getting What You Want By Doing What Others Won't."
According to Mitchell, it is estimated that less than 10% of individuals set regular goals for themselves.
"My desire is to help as many college students as possible be in the top 3%. Ninety-seven percent of people simply don't take action on their goals and dreams. Effective goal setting, when coupled with action, can help today's college student realistically determine where they are now, where they want to be, and the most efficient means of getting there," says Mitchell. "My talk on Self-Leadership gives students the 'nuts and bolts' of effective goal setting. In other words, the tools they need to create a winning game plan for their college career and beyond!"
Nationally known college speaker, Rick Barnes, has this to say: "Nathan R Mitchell is one of America's most authentic speakers. He is passionate about his subject, and passionate about helping students!"
Mitchell, a graduate from Missouri State University, earned a B.S. Degree in Entrepreneurship and a Masters in Business Administration. In addition to his strong foundation in academics, he also has "real-world" experience in many aspects of Business Management and Leadership due to his decade of experience in Operations Management with a Fortune 50 company.
Most recently he has been on a speaking tour with his 2011 book Give Me the Ball! Winning the Game of Entrepreneurship, which has received endorsements from world-renowned author and speaker, Brian Tracy, entrepreneur Jim Stovall, and ABC's Secret Millionaire, James Malinchak.
Although Mitchell calls Tulsa Oklahoma home, he travels anywhere in the United States where he has the opportunity to share his message, but primarily focuses on colleges and universities in a five-state region consisting of Oklahoma, Missouri, Texas, Arkansas, and Kansas.
Learn more at http://www.nathanrmitchell.com
Contact Information:
Nathan R Mitchell (MBA, CPC)
c/o Clutch Consulting LLC
3939 S. Harvard Ave. Suite #175
Tulsa, OK 74135
918.851.7246
###