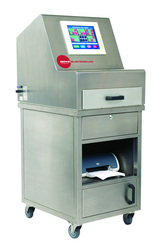 Belfast (Vocus) October 22, 2009
Quality assurance leak testing equipment supplied by the packaging specialist, Sepha, has been installed at Bayer China, home to the fastest pharmaceutical packaging line in Asia Pacific. BlisterScan is a non-destructive method of quality control which tests for leaks in blisterpacks using state-of-the-art non contact technology.
Sepha Chief Executive Aubrey Sayers explains: "Testing is a vital part of quality assurance for pharmaceutical manufacturers to ensure package integrity, drug stability and minimise waste. BlisterScan gives a snap shot of the quality of the packaging of batches. It replaces the traditional and messy blue-dye test method of checking for leaks using a liquid test that rendered the packs and their contents un-useable regardless of whether they have a hole in them or not. BlisterScan can detect leaks as small as 7 microns in individual blister pockets using scanning technology. So all samples which 'pass' the test can be re-introduced to the packaging line, thus reducing waste and increasing productivity."
BlisterScan instantly pinpoints the location of a faulty pocket seal by using a beam of light that scans the pockets before and after applying a vacuum. A pass or fail result is given on the basis of the 'before' and 'after' reading against predetermined leakage acceptance levels and from the results a correlation with the hole size can be made. No specialist knowledge or training is required to use the machine and the test cycle is complete in less than six minutes with tooling changeover taking about 30 seconds.
Sepha will be demonstrating BlisterScan's benefits to other China-based pharma companies at China Pharm, in Shanghai from 27-30 October when they will be exhibiting in partnership with its agent Rieckermann Pharmatech Ltd. who are celebrating 10 years in business at the show. Visitors are invited to join them in the celebrations in Hall W5, Booth 5401.
Sepha's extensive technical expertise within the pharmaceutical industry has resulted in close working relationships with a large number of the world's top pharmaceutical manufacturers. Their machines have been developed to meet the stringent standards that pharmaceutical companies face in highly competitive and regulated markets. In addition to BlisterScan, the range includes 'PakScan': a leak tester for non-destructive testing of pouches and sachets, as well as 'PressOut' deblistering devices which transform the laborious task of removing tablets from their capsules into an automated process as fast as 50 tablets per minute.
###