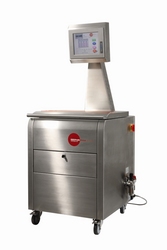 In Germany at FachPack we exhibited alongside the production machinery manufacturer, Romaco. It was a great vote of confidence for such a globally respected company to endorse our brand as part of their overall commitment to finding the most innovative and efficient solutions for packaging manufacturing.
Belfast (Vocus) October 5, 2009
Global packaging specialist, Sepha, says the increased pressure to reduce costs and waste is driving global pharma-industry demand for its range of deblistering and blister-scanning technologies. While blisterpacks offer pharmaceutical companies a simple and secure way of providing pharmaceuticals to consumers, their robust design often makes it difficult to either test for leaks or recover product from rejected packages on an industrial scale, generating considerable waste. This waste can have significant impact on production yields and waste reduction targets, and therefore also manufacturing costs. But the range of technology from the Northern Ireland manufacturer Sepha is helping to solve the problem.
Pharmaceutical leak testing and deblistering technology from the Northern Ireland manufacturer, Sepha, is helping to solve the problem of reducing pharmaceutical waste and manufacturing costs during tough economic times. Their machines such as Press-Out Universal, can recover drugs from rejected packs at a rate of up to 50 tablets and capsules per minute, transforming a laborious task traditionally done by hand into an automated process. Whilst Sepha's innovative pharmaceutical leak testing equipment can provide a non-destructive method of quality control, providing an alternative to the traditional blue-dye testing method of checking for leaks using a liquid test which rendered the packs and their contents un-useable regardless of whether they have a hole in them or not. BlisterScan and PakScan identify leaks in blisterpacks, non-porous sachets and pouches using a clean, dry, non-contact laser scanning method, so all samples which 'pass' the test can be re-introduced to the packaging line, thus reducing wastage and increasing productivity.
In response to growing interest, Sepha has embarked on an intensive global tour of major exhibitions and will be at Pack Expo, Las Vegas with its US distributor Service Industries, from 5-7 October, at stand no S5439.
Speaking about the response from buyers so far Sepha CEO, Aubrey Sayers, said reactions have been very positive: "In Germany at FachPack we exhibited alongside the production machinery manufacturer, Romaco. It was a great vote of confidence for such a globally respected company to endorse our brand as part of their overall commitment to finding the most innovative and efficient solutions for packaging manufacturing."
###