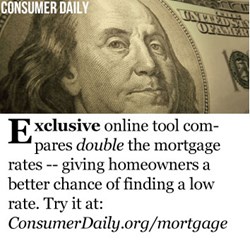 Mortgage Refinance Rates Drop to 4.41% for 30 Year Fixed Home Loans On Consumer Daily
Orange County, CA (PRWEB) September 04, 2013
Bloomberg reported that the 30-year fixed mortgage rate dropped from its highest rate of 4.58 percent since July 2011. The article quoted mortgage buyer, Freddie Mac as saying it has now eased off to 4.51 percent (Bloomberg, Aug 29, 2013).
Consumer Daily is also recognizing this and is allowing millions of home buyers access to an up-to-date list of today's mortgage rates from a vast database of lenders and banks.
These new mortgage rates on Consumer Daily can be found at: http://www.consumerdaily.org/mortgage/
Bloomberg also reported home prices in June jumped 12.1 percent from a year earlier, the S&P/Case-Shiller index of 20 U.S. cities showed this week. That followed a 12.2 percent gain in the year ended May, which Bloomberg states was the biggest increase since 2006.
According to the Bloomberg article, Seattle based Zillow said rising home prices are helping lift borrowers out of negative equity, allowing more to refinance or sell properties without losing money.
Consumer Daily, has developed a platform for consumers to take advantage of this news and wanted to share the information with people who utilize their unique mortgage comparison system.