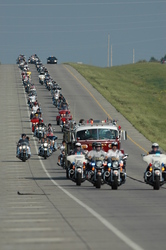 We want to give the people a way to pay their respects to the men and women who risk their lives every day to keep our country safe
Overland Park, KS (PRWEB) September 9, 2009
Gail's Harley-Davidson on 150 highway in Grandview, Missouri will present their Eighth Annual 9-11 Tribute Ride and Rally this weekend, September 11th and 12th . This two day event is to honor those who perished in the 9-11 terrorist incidents, to pay tribute to the men and women who have fought for us and continue to fight for us around the world, and to pay homage to the First Responders who keep us safe on the streets of our country.
The event begins on Friday evening, September 11th, with a huge parade of thousands of motorcyclists led by police officers from departments all over the Kansas City Metropolitan area (Lenexa, Overland Park, Belton, Grandview, Kansas City, Independence, Jackson and Johnson County sheriff Departments, MO and KS Highway Patrols, and more), a New York City fire truck, military support vehicles, and retired and enlisted military personnel on their motorcycles. They are all followed by thousands of motorcyclists.
The US Marine Color Guard will perform a Flag Retirement Ceremony at 6:00 followed by the parade at 7:00.
The parade is open to all makes and models of street motorcycles and it is free to participate.
The parade will leave Gail's Harley-Davidson at 7:00. They will proceed West on 150 Highway to 135th Street in Leawood and continue on 135th Street to Metcalf. They will head North on Metcalf turning West on 119th Street. The parade will end at Fuel American Sports Bar and Restaurant in Rosanna Square with a concert by KC/DC.
Saturday's festivities begin at Gail's Harley-Davidson at 10AM with live bands throughout the day. Military Chinook and Apache helicopters will land in the parking lot between 10 and Noon courtesy of the US Army. Meet military personnel and First Responders. Bring the kids to see a live Bald Eagle.
Country sensation Steve Holy (I've got a Brand New Girlfriend) will take the stage at 2:00 for a free concert. After the concert some lucky on-looker will win a brand new Harley-Davidson Heritage Softail.
The entire weekend is free to attend. "We want to give the people a way to pay their respects to the men and women who risk their lives every day to keep our country safe," says Gail, owner of Gail's Harley-Davidson.
For more information on this amazing event go to http://www.feelthepower.com
###