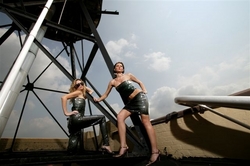 Sequins provide a confident, sleek appearance while hiding imperfections
New York, NY (PRWEB) March 29, 2009
Sequins.com announced the prom trend that's sweeping teen buyers across the nation: sequins. This new line under the label, Sequins Separates, started this 'shine revolution' when teenagers began to ask for sequins pants for this year's prom. Diverting from the traditional strapless dress or long lacey gown, students are choosing a different approach in their prom fashion statements.
To meet the demands of high school parents and teen consumers, the online sequins store is offering prom specials that include: 20% off any order and free shipping on orders over $200 with the checkout code, prom.
"There are so many costs involved in prom shopping. We've not only impressed buyers with our affordable prices, but we're dressing the nation with a new look for less," stated Larry Gladstone, President of http://www.sequins.com.
"Sequins provide a confident, sleek appearance while hiding imperfections," added Anne Marie Gabalis, Designer. "The kids are following celebrity fashion trends, sequins included, because they want to stand out in their crowds."
Additional prom items that teens crave include sequins mini skirts, tube tops and tunic dresses. The site also offers a sequins trench coat that's perfect for a "prom mom."
Hurry to http://www.sequins.com and take advantage of this increasingly popular fashion movement. To receive 20% off any order and get FREE shipping when you spend $200 or more, use checkout code: prom. The site prominently highlights 6mm sequins prom pants are made with real sequins, come in black (sizes 0-14) and are dry cleanable for your convenience.
Catch a glimpse of what teens are shopping for this year. Visit http://www.sequins.com for your prom needs today.
###