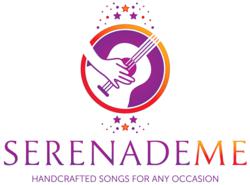 We intend to make the personal music experience as relevant as any other form of social sharing. Everyone should be able to quickly and easily share their own themes with the world around them
Chicago, IL (PRWEB) May 01, 2013
A common dilemma everyone will face at some point: How do you give a meaningful gift to someone without spending all of your time or money? Gift-giving is certainly an art that few are able to accomplish well. SerenadeMe, a Chicago-based startup, has the answer — custom songs.
Celebrating their recent launch to the public, SerenadeMe is a service that allows people to help create custom music and songs for any and every occasion. Regardless of what else anyone owns, giving a custom-written and recorded song just for the receiver is something indisputably unique. Visitors to the SerenadeMe website provide details such as information about the gift receiver, the occasion, and numerous other details right down to the vocal style.They can also personalize details such as male or female singer, tempo, lyric style, and mood that you would like to convey. It is quick and easy for anyone to express the style of song they want, ensuring quality no matter what genre they choose.
SerenadeMe makes the choice simple – you can either order a completely new, one-of-a-kind song or a customized (lyrics and vocals) version of an original piece of SerenadeMe music from their genre-spanning library. With either option, the song is customized to reflect both the gift giver and the receiver, making this the most personal gift imaginable.
Whether a birthday gift, engagement present, first wedding dance song, or a theme for a thrilling vacation video, SerenadeMe "is committed to helping people find their voice. Let the world hear what you hear."
Behind the scenes, there are songwriters, musicians, and singers ready to perfect the moment. Each song is recorded and perfected to meet the needs of the order.
And this is just the beginning of the SerenadeMe journey. SerenadeMe "intends to make the personal music experience as relevant as any other form of social sharing". Their mission is to allow everyone to quickly and easily share their own themes with the world around them.
Now is a perfect time to get a special gift for that upcoming wedding or birthday. SerenadeMe is on a mission to eliminate bland gift-giving and they are succeeding one song at a time.
About the Founders
SerenadeMe is the dream of Mark Mikunas and Marina Lin, two veterans of the Chicago startup and tech community. Mark brings an engineering background and a lifetime of songwriting, producing, and performing. He has been creating music since his early teen years, and has a unique ability to create meaningful, moving songs. Marina has worked in e-commerce and online media and her background in design and user experience brings a personal touch to the customer journey in creating and crafting their perfect songs.