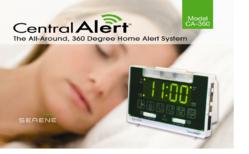 The CA360 is the result of joint development with various user groups and it represents over 4 years of research by our technical staff. It allows you to "hear" what is going on around you and to give you a peace of mind, 24/7." - George Cheung, president
(PRWEB) December 18, 2011
Serene Innovations announces today the launch of an all new CentralAlert™ CA-360 Wireless Notification System. It is an all-in-one notification system that alerts users to all the daily sounds in the home such as smoke alarms, gas alarms, storm warnings, alarm clocks, door knocks, phone calls and much more. Serene Innovations views this as an innovative and life enhancing device for those who can't hear or can't hear well enough to know what is happening around them at home. And, in cases of emergency, it can also be potentially life saving.
What is unique about the the CentralAlert™ Model CA-360 Wireless Notification System is its all-in-one design, state of the art technology and its full 360 degree cover of the home. Unlike other piece-meal component system that require assembly and combining multiple components together, the CA360 puts everything together in one compact package. There is no installation needed for the CA360, and all operations are wireless. The CA360 uses 2.4 GHz wireless transmission technology to ensure long range operation and no interference from other electrical sources. Its Smart Code technology allows it to operate independently even as there are thousands of systems nearby.
The CA-360 is the only system that is capable of detecting and alerting users to all audio alarms, including those with the latest T3 and T4 alarming sounds. It is also the only system that alerts users to any storm warnings when connected to your NOAA weather radio. In addition, it is the only alert system that is able to monitor babies crying in real-time, which means there will be less false alarms. What is also unique is that all these functions operate perfectly with its battery back-up during a power outage. The CA360 notifies users of all these alerts using loud audio sound, a powerful bed shaker and a bright flasher that can be doubled as an emergency flashlight.
"The CA360 is the result of joint development with various user groups and it represents over 4 years of research by our technical staff. It allows you to 'hear' what is going on around you and to give you a peace of mind, 24/7." - George Cheung, president of Serene.
"This definitely will become the 'must-have' system for the deaf and the hard of hearing." Serene Innovations explains that the CA360 is compact and stylish, and its icons are big and easy to see even from a distance. It comes with a weather resistant and easy to install doorbell, and a powerful bed shaker. It is ready to be used out of the box, just plug it in and users will become fully aware of what is happening around them. The CA360 is very affordable, at a suggest retail of only $179.95, it is sure to be welcome and appreciated by the users. There is also a wide selection of affordable sensors and accessories for easy customizing to better meet user needs.
About Serene Innovations
Serene Innovations specializes in the development and manufacturing of communication products for the seniors and for people with special needs. Its amplified corded and cordless telephones have been the industrial standards for over three decades, and its TV Listening Headsets are the most comfortable TV listeners in the world which allows users to watch TV in private without disturbing others around them. Serene's other current product range consists of telephone loud ringers, telephone amplifiers, personal listeners, vibrating alarm clocks and watches, hearing aid dryer and more.
###