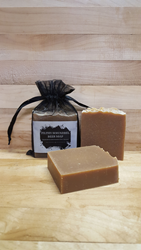 Since Grand Rapids, Michigan is Beer City U.S.A., we wanted to create a beer-based soap that would represent the local scene.
Grand Rapids, Michigan (PRWEB) June 10, 2016
Grand Rapids, Michigan based Serene Body Essentials (http://www.serene-body-essentials.com) has gifted its Filthy Scoundrel Beer Soap Bar to members of the press at one of New York City's premier single-day holiday product showcases, in association with The Artisan Group®. The All Product Press Gifting, put on by Consumer Product Events, took place June 8, 2016.
A full size, four-ounce bar of Serene Body Essential's Filthy Scoundrel Beer Soap Bar was included in The Artisan Group swag bags, which were presented to select press attending the event.
"Our bath and body and skin care products are handcrafted right here in Grand Rapids, Michigan using natural, healthful ingredients," remarked Jennifer Knapp, founder. "And, they smell amazing!"
When asked how Filthy Scoundrel Beer Soap came to be, she says, "Grand Rapids is known as Beer City U.S.A., so we sort of felt it was incumbent on us to create a beer-based soap that would represent the local scene. We ended up partnering with Founders, one of our many local breweries, to create a soap based on their popular scotch ale, Dirty Bastard. With lots of suds and plenty of moisturizing, it's the perfect gift choice for skin care and beer enthusiasts, male or female."
Filthy Scoundrel Beer Soap Bars weigh in at approximately 4 ounces and retail for $6.00.
Jennifer's passion for creating bath and spa products began as a response to aluminum allergies she was experiencing. In-depth research led her to create an aluminum-free deodorant. Hooked on what she was learning, she developed a range of products that began replacing the chemical-laden ones lining her family's bathroom shelves.
Word of mouth about how great the products were led to requests from family and friends. "That was in 2012 and now here I am, a full-fledged business owner. I participate in local farmers and artisan markets and our products are carried by several local boutiques and natural food stores."
Serene Body Essentials' mission is developing and offering efficacious bath, body and skin care products, using only ingredients you would find in your kitchen, garden or home. Its petroleum-free lip balms and tints are beloved by customers. Soaps are made with health-forward coconut oil, shea and cocoa butters and avocado and olive oils.
A signature offering is flower and herb oil-infused products, based on the season. "I pick local flowers and herbs, dry them and soak them in olive oil for two weeks. We also incorporate seasonal fruits and vegetables. In the fall we do a lot with pumpkin, apples and cinnamon. Winter time is our minty season. Spring is my favorite time as most of our flowers are staring to bloom. We even use weeds—yes, dandelions are popular. My five year old loves to pick the dandelions with me to make a salve."
Soon to be released products include a gentle but effective pumice foot scrub and a nourishing matcha green tea mask. "We are getting our feet and skin ready for summer," smiles Jennifer.
Serene Body Essentials is part of Local First in Grand Rapids and has appeared on The Morning Show with Shelley Irwin. The company also participates in Boxed GR, a local subscription box service. They were featured in the October 2015 issue of Grand Rapids Magazine.
To learn more about Serene Body Essentials, contact Jennifer Knapp by email using the Contact button at the top right of this press release. Become a fan on Facebook, Pinterest and Instagram, and follow the company on Twitter.
For more information about The Artisan Group, visit theartisangroup.org.
ABOUT SERENE BODY ESSENTIALS
Serene Body Essentials (http://www.serene-body-essentials.com) started out as a hobby and grew into a business. Founder Jennifer Knapp wanted healthy skin care options for her family, so she researched ingredients, the benefits of those ingredients and some recipes. Her friends got wind of what she was doing and wanted her products too.
Serene Body Essentials carries a wide range of products and does seasonal scents as well. It also offers gift sets and custom boxes for any occasion.
ABOUT THE ARTISAN GROUP
The Artisan Group® (http://www.theartisangroup.org) is a premier entertainment marketing group dedicated to representing small business artisans at the best celebrity gift lounges and press events. The organization provides a collective sampling of handcrafted products to celebrities and members of the press at top luxury gift lounges such as those leading up to The Academy Awards, The Golden Globes, The MTV Movie Awards and The Primetime Emmys.
The Artisan Group also coordinates product placement of its member's handcrafted products on such hit television shows as The Voice, The Vampire Diaries, Days of Our Lives, The Young & The Restless, Modern Family, Jane The Virgin and Law & Order: SVU, among others. Membership in The Artisan Group is juried and by invitation only.