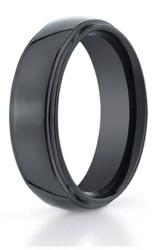 The addition of men's seranite ceramic wedding bands adds yet another dimension to JMR's already expansive selection of unique and alternative rings.
Jensen Beach, FL (PRWEB) October 25, 2011
As a leading online retailer specializing in men's designer rings, fashion rings, wedding bands and jewelry, JustMensRings.com is pleased to introduce this new collection of men's alternative wedding rings. With a growing customer base in the U.S. and around the world, JustMensRings.com has grown to become a premier destination for buying men's jewelry on the Internet. The company attributes this success to their continuously updated collections of designer, traditional and alternative rings at competitive prices.
Known throughout the industry as one of the first major online retailers to expand its industrial metals collections, JMR is always looking for the latest styles, particularly in the alternative rings segment. This exciting new category of men's jewelry has grown considerably over the past 2 to 3 years, and has grown to include ceramic rings, as well as cobalt, titanium, stainless steel and tungsten carbide. The rising popularity of black rings has created additional demand for men's ceramic wedding bands, but JMR is very discriminating when choosing new inventory. Their new collection of men's black wedding rings is made by a top designer from a revolutionary ceramic material known as Seranite.
Extremely lustrous and strong, seranite is created using a proprietary formula that is ceramic-based and highly scratch resistant. As a result, it looks much glossier than traditional black metals like tungsten and stainless steel. Men's seranite rings are one of the jewelry industry's hottest new trends because the color goes all the way through. It is also lighter on the hand than dense metals like tungsten and much more comfortable for long-term wear, making this naturally black ceramic material irresistible.
Unlike some other black metals, men's seranite wedding rings are made from a ceramic-based material that will not scratch, fade or discolor. It also retains its luminous shine for years to come. JustMensRings.com conducts thorough research before adding a new ring collection to their inventory, and they've found that few other black designer ring collections offer the quality and style of these men's ceramic wedding bands. That's why these new seranite rings are so exciting to JMR's customers.
"We are always hearing from customers all over the country and we learn a lot about what's 'hot' in men's wedding rings. If there is one thing we've learned over the past six to eight months, it's that men's black ceramic wedding rings are 'very hot'!" says co-owner JustMensRings, Roy Devine.
After just five years in business, JustMensRings.com has become an established "expert" in a variety of metals and styles of wedding rings, but especially alternative metals like tungsten, cobalt, titanium and stainless steel. The addition of men's seranite ceramic wedding bands adds yet another dimension to their already expansive selection of unique and alternative rings. JMR is pleased to introduce this designer collection of men's black wedding bands, just in time for the holiday shopping season.
About JustMensRings:
As an Internet-only retailer, JustMensRings.com is dedicated to providing a simple and secure online shopping experience. This is one site where customers know they are getting the best possible prices on an extraordinary selection of men's rings. JMR's customers have come to expect high standards of service, selection and quality when they shop at JustMensRings.com. In fact, Just Men's Rings (http://www.JustMensRings.com) now offers the largest selection of men's fashion rings on the Internet, and they are the only store in the U.S. that offers men's large size rings through size 20. They also lead their competitors with an unparalleled assortment of unique and alternative men's wedding rings, and JMR is known for their very low prices on men's gold rings. Despite the recent rise in gold prices, JMR keeps their prices low and affordable, and shoppers won't find better prices on gold, silver, tungsten, titanium and other popular metals.
###