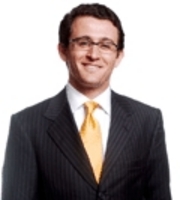 "We need to highlight the ways in which the African American community is victimized by the debt collection industry, and stand up to illegal and unethical debt collection practices."
Stamford, CT (PRWEB) October 20, 2010
When Soledad O'Brien's special report, "Almighty Debt: A Black in America Special" airs on CNN Thursday evening (9:00 p.m. EDT), it will highlight the ways in which churches are "fighting a financial crisis from the pulpit." According to fair debt attorney Sergei Lemberg (http://www.stopcollector.com), the message of financial responsibility delivered by ministers to the African American community is but one piece of the puzzle. "It's also time to shine a spotlight on the ways in which the debt collection industry targets African-Americans," he said. "Debt collectors sometimes cross the line by using hate speech, intimidation and threats, while debt buyers often use the court system to victimize those with lower incomes - who are disproportionately African American."
Lemberg cites September's ABC Nightline investigative report into Advanced Call Center Technologies as a prime example of the hostility with which African Americans are sometimes treated by debt collectors. "Nightline played voicemail messages left by ACT debt collectors that contained vile, racist epithets - hate speech that no one should have to endure," said Lemberg. Noting that the third-party debt collection agency was attempting to collect $81 for Bank of America, Lemberg added, "All too often, large financial institutions and corporations are willing to look the other way in order to collect what amounts to loose change." While Bank of America terminated its relationship with ACT when confronted with the agency's offensive behavior, Lemberg said that, everyday, similar calls are made by debt collection agencies on behalf of creditors. "Using threats, obscene language, and racist epithets when attempting to collect a debt is a clear violation of the federal Fair Debt Collection Practices Act, yet most consumers don't realize that they can fight back."
Lemberg also notes that debt buyers - those who purchase written-off debt for pennies on the dollar - exploit the legal system to disproportionately target lower-income African Americans. A May 2010 report issued by the Legal Aid Society in conjunction with other New York City organizations found that debt buyers filed over 450,000 lawsuits in New York City between January 2006 and July 2008. Over 94% of the time, they won default judgments against consumers who likely weren't aware they were being sued and only 1% of whom were represented by an attorney. "Over two-thirds of the consumers sued were African American or Latino, and over a third of the cases were without merit," said Lemberg. "Of the cases without merit, two-thirds were brought against African Americans or Latinos."
The July 2010 Federal Trade Commission report, "Repairing a Broken System: Protecting Consumers in Debt Collection Litigation and Arbitration," cited a number of problems related to debt litigation, including the high prevalence of default judgments and filing suits based on insufficient evidence. While the FTC did not specifically address the impact on the African American community, it cited the Legal Aid Society report, and noted that judgments often lead to garnishment and freezing bank accounts that contain exempt funds. "For many consumers this is catastrophic, as it can trigger a vicious circle of bounced checks and bank fees, and can leave people without access to their money for a month or more," said Lemberg.
In conclusion, Lemberg said that while he applauds CNN's "Almighty Debt" report, it doesn't go far enough. "We need to highlight the ways in which the African American community is victimized by the debt collection industry, and stand up to illegal and unethical debt collection practices," he said.
About Lemberg & Associates, LLC
The attorneys at Lemberg & Associates, LLC are experts in fair debt and lemon law, and practice in New York, Connecticut, New Jersey, Massachusetts, Pennsylvania, Maryland, California, and Washington, D.C. Sergei Lemberg can brief you about the Fair Debt Collection Practices Act, remedies available to consumers who are victims of debt collector harassment, and other relevant issues.
For more information, contact:
Sergei Lemberg
Lemberg & Associates, LLC
slemberg(at)lemberglaw(dot)com
http://www.StopCollector.com
http://www.LembergLaw.com
###