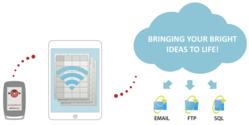 Serialio.com has the repertory of components and know-how to help you build a solution for your specific RFID needs. But it is their service...that truly sets them apart! " - Sanjay Sengupta, Fortune 1000 Chip Maker
Orlando, FL (PRWEB) April 25, 2013
Serialio (pronounced serial i/o), a leading Serial Solution Provider of more than 20,000 solutions delivered on over 500 mobile device models providing RFID mobile data solutions across all industries, will unveil exciting new products, solutions and services at its trade show debut, the RFID Journal LIVE! conference and exposition at the Orlando Convention Center, Apr. 30 - May 2, 2013, booth #736.
Visitors can test Serialio's latest generation wireless RFID Scanfob Ultra-BB2 solution, an RFID scanner which reduces mobile workforce injuries, boosts productivity and delivers fast accurate product data across multiple devices and operating systems. Serialio will also demonstrate and showcase their exclusive line of mobile solutions including idChamp, Grid-In-Hand® Mobile Grid, Order-In-Hand® Mobile Order for the ultimate in exceptional and easy-to-use mobile solutions.
Serialio is known for its client-by-client product customization of RFID products for its global customers at significantly better value than their competition.
Sanjay Sengupta, Fortune 1000 Chip Maker, raves, "We recently implemented a prototype for a cold-chain management and food traceability system using temperature-sensing RFID sensor. Serialio.com helped us put the solution together. We used the Grid-In-Hand® Mobile Grid app running on an Android phone to upload the data. Beyond the fact that the solution worked flawlessly, I want to highlight the truly outstanding service we got from Serialio.com. Serialio.com has the repertory of components and know-how to help you build a solution for your specific RFID needs. But it is their service and willingness to invest in your success that truly sets them apart!"
"The once dominant world of wired RFID and barcode scanning has gone mobile. Serialio was the first company in the world to connnect Bluetooth RFID scanners to PalmOS, BlackBerry, Windows Mobile Symbian S60, Android,and iOS. We specialize in easy-to-use hand-held 'one button solutions'," notes Serialio CEO David Boydston.
Serialio provides solutions as 1) existing products 2) customized units and 3) developed in partnerships with their customers and suppliers.
During the April 30th - May 2rd trade show in Orlando, Serialio will demonstrate innovative, cost-effective ways to leverage their reliable, mobile data experiences for each of their diverse customer base, from individuals to Fortune 1000 companies. Each day of the Expo, Serialio will demonstrate their "Mobile Connecto-mania Solutions" in Booth 736. Attendees will see iOS (iPad-iPhone-iTouch) & Android devices seamlessly interface to capture information from numerous data reading devices simultaneously to their mobile device(s).
Using Serialio's Grid-In-Hand® Mobile Grid app Serialio solutions help customers quickly get started using RFID technology on new mobile reading devices, applications and operating systems. Serialio's nonintrusive solutions off-load work from internal IT departments, while allowing customers to easily, quickly and cost-effectively use their existing applications with new technologies.
Based near Austin, TX, Serialio provides one-button mobile cross-platform Bluetooth barcode and RFID scanning solutions on over 500 mobile device models, combining state-of-the-art software and hardware. Its family of mobile solutions are unmatched in value and ease-of-use. Customers range from major Fortune 1000 companies to independent developers, located in over 60 countries worldwide. For more information, visit http://www.serialio.com, email sales(at)serialio(dot)com, follow on Twitter at http://twitter.com/Serialio, "Like" Serialio.com on Facebook, or call (512) 994-3630, Central Standard Time.