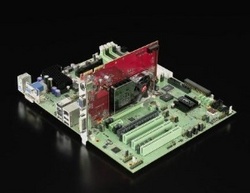 The launch of the AMD 780 Series marks an uncommonly large step forward in mainstream PC capabilities. Starting today, consumers can attain superior HD video and casual 3D gaming experiences, as well as remarkable energy efficiency
HANNOVER, Germany (PRWEB) March 4, 2008
"The launch of the AMD 780 Series marks an uncommonly large step forward in mainstream PC capabilities. Starting today, consumers can attain superior HD video and casual 3D gaming experiences, as well as remarkable energy efficiency," said Phil Eisler, corporate vice president and general manager, AMD Chipset Division. "The release of the AMD 780 Series is in keeping with the AMD vision that computing can deliver The Ultimate Visual Experience(TM) and now at mainstream PC price points."
ATI Hybrid Graphics Technology & Mainstream DirectX10 Gaming
As the first AMD chipset to offer DirectX 10 game compatibility, casual gamers can now enjoy enhanced game performance, truly lifelike 3D graphics and dynamic interactivity in the latest game titles. Gamers looking to scale their performance with the addition of a discrete graphics card can achieve superior performance with ATI Hybrid Graphics Technology.(1) This technology harnesses the graphics power of both a discrete graphics card and the motherboard GPU in tandem, delivering in some applications up to 70 percent improvements in 3D performance.(2) In addition, the AMD 780G chipset is the second generation AMD chipset to feature AMD Overdrive(TM), a simple user interface that brings performance tuning to the masses.(3)
The Ultimate Visual Experience(TM) for HD
The AMD 780G chipset brings a full HD experience with support for the latest and most demanding formats, including VC-1, MPEG-2 and H.264 to the mainstream PC. Featuring the AMD Unified Video Decoder (UVD), it directs HD playback to the better-suited GPU rather than to the CPU so consumers may enjoy a smooth HD viewing experience - no lag, stalling or dropped scenes - in the latest HD-DVD(TM) and Blu-ray(TM) titles. As a cool and quiet solution, AMD 780G-powered PCs may be placed in the living room as part of a home theater. In addition, PC's built around the AMD 780G chipset can give consumers tremendous flexibility with a broad range of video interfaces, including DisplayPort, DVI and HDMI, and with support for AMD Surroundview(TM) consumers may connect to multiple monitors.
Energy Efficient Computing
As the world's first chipset to deliver 55nm process technology, the AMD 780 Series motherboard GPU delivers optimal power management both in idle, or when playing Blu-ray movies, without compromising performance. This motherboard GPU provides more computing power than the previous generation, yet draws less energy at idle, making the AMD 780 Series- based PCs ideal for consumers and enterprises looking for cool, quiet, energy efficient PCs.
For press collateral pertaining to the AMD 780 Series motherboard GPU, including images and videos, please visit http://www.amd.com/780chipset/presskit.
View the AMD 780 Series Chipset Video to see how AMD revolutionizes the mainstream PC with the introduction of the AMD 780 series chipset, bringing DX10 gaming capabilities and full high definition experiences for the mainstream PC user. (5 min 4 sec)
AMD CeBIT Video Coverage: View a recap of AMD news and products covered at CeBIT 2008 in Hannover, Germany.
About AMD
Advanced Micro Devices (NYSE: AMD) is a leading global provider of innovative processing solutions in the computing, graphics and consumer electronics markets. AMD is dedicated to driving open innovation, choice and industry growth by delivering superior customer-centric solutions that empower consumers and businesses worldwide. For more information, visit http://www.amd.com.
Cautionary Statement
This release contains forward-looking statements concerning product and technology introduction schedules, which are made pursuant to the safe harbor provisions of the Private Securities Litigation Reform Act of 1995. Forward-looking statements are commonly identified by words such as "would," "may," "expects," "believes," "plans," "intends," "projects" and other terms with similar meaning. Investors are cautioned that the forward-looking statements in this release are based on current beliefs, assumptions and expectations, speak only as of the date of this release and involve risks and uncertainties that could cause actual results to differ materially from current expectations. Risks include the possibility that Intel Corporation's pricing, marketing and rebating programs, product bundling, standard setting, new product introductions or other activities targeting AMD's business will prevent attainment of AMD's current plans; AMD will require additional funding and may not be able to raise funds on favorable terms or at all; customers stop buying the company's products or materially reduce their operations or demand for its products; the company will be unable to develop, launch and ramp new products and technologies in the volumes and mix required by the market and at mature yields on a timely basis; the company's competitors, customers and suppliers may take actions that will negate the anticipated benefits of the company's acquisition of ATI; demand for computers and consumer electronics products and, in turn, demand for the company's products will be lower than currently expected; global business and economic conditions will worsen, resulting in lower than currently expected revenue in the first quarter of 2008 and beyond; there will be unexpected variations in market growth and demand for the company's products and technologies in light of the product mix that it may have available at any particular time or a decline in demand; the company will be unable to transition to advanced manufacturing process technologies in a timely and effective way, consistent with planned capital expenditures; the company will be unable to maintain the level of investment in research and development and capacity that is required to remain competitive; and the company will be unable to obtain sufficient manufacturing capacity or components to meet demand for its products or will under-utilize its microprocessor manufacturing facilities. Investors are urged to review in detail the risks and uncertainties in the company's Securities and Exchange Commission filings, including but not limited to the Annual Report on Form 10-K for the fiscal year ended December 29, 2007.
AMD, the AMD Arrow logo, ATI, the ATI logo, SurroundView, The Ultimate Visual Experience and combinations thereof, are trademarks of Advanced Micro Devices, Inc. Other names are for informational purposes only and may be trademarks of their respective owners.
(1) Not all ATI Hybrid Graphics Technology features may be available for use with all operating systems. Please visit http://www.amd.com for more details.
(2) Based on testing conducted with the following system configuration:
Screen Resolution: 1024x768x32
AMD 780G - Phenom 9500 2.2GHz, HT 1.8 GHz, DDR2-800, WD 320GB
Intel G35 - Intel Q6600 @2.4 GHz, DDR2-800, WD 320 GB
Hybrid Graphics - ATI Radeon HD 3450
(3) AMD is not responsible for damage caused by overclocking, even when overclocking is ended with AMD OverDrive(TM) software.