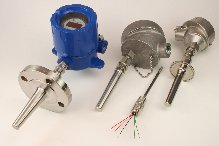 RTDs designed for the Real World.
Minnetonka, MN (PRWEB) July 31, 2012
Series 200 & 300 platinum based RTDs offer better than IEC 60751/ASTM 1137 interchangeability and are highly configurable to meet most temperature measurement applications including direct immersion, spring-loaded for use with thermowells and capsule style. The catalog covers individual sensors as well as complete sensor assemblies.
Highlights include:

Complete Sensor Specifications
Testing Data
Sensor Configuration Tables and Ordering Information
Hazardous Environment Designs
Resistance vs. Temperature Tables
Common Options: Connections Heads, Thermowells, Terminations and Certifications
ABOUT BURNS ENGINEERING:
Since 1960, Burns Engineering has been an industry leader in the design and manufacture of temperature measurement products for the Process, OEM and Metrology industries. Products include RTDs, Secondary SPRTs, Thermocouples, Thermowells, Transmitters and NVLAP® Accredited Calibrations (Lab Code 200706-0). Learn more about Burns Engineering at http://www.burnsengineering.com or contact directly at 800-328-3871.