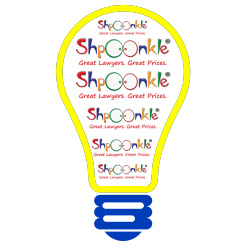 Paving the way for legal consumers to find great lawyers at a great price.
Miami, FL (PRWEB) September 25, 2012
Getting a lawyer is serious business. When someone is facing foreclosure, divorce, or have been arrested they are stressed, scared, and skeptical.
Most people reach out to lawyers at the worst times in their lives, and the process can be intimidating and expensive. Not so long ago, a young entrepreneur decided that maybe there was a way to make a very serious business, a little less scary and lot less expensive for legal consumers. Shpoonkle was born and is growing up strong. The legal consumer has embraced Shpoonkle and the idea of making legal services more accessible and affordable to them. Shpoonkle is saving money for legal consumers.
Shpoonkle takes lawyers very seriously, and every new attorney member undergoes a quality check where they are validated as licensed and in good standing with their bar. The average client does not do this before they consult with an attorney. Shpoonkle is always putting the consumer first on the site by empowering them with more choices from quality sources. Shpoonkle founder Robert Niznik, states that Shpoonkle "is paving the way for legal consumers to find great lawyers at a great price."
Since the launch of Shpoonkle, millions of dollars in client cases have been won by participating lawyers, and that is serious money. For a silly sounding name, a lot of attorneys are getting new clients and cases. Conversely, Shpoonkle was able to do this and not charge the client a cent, and save them 30% or better on the national average rate charged by most lawyers.
Shpoonkle may sound silly to some, but not to the client who found an attorney when they didn't think they could afford one and saved their home, or that "Big Law" attorney who got downsized and found his first new private practice client on Shpoonkle.
In 1880, the President of Stevens Institute of Technology said "everyone acquainted with the subject will recognize it as a conspicuous failure," he was speaking of Edison's electric light bulb. More recently, in 1966 Time Magazine said "Remote shopping, while entirely feasible, will flop." Some of the smartest people have balked at innovation, and these items have gone on to change the way we conduct our lives. E-Commerce sites have come up all over the net, from shopping, banking, to finding a babysitter. Consumers now view the internet as a source for most things in their lives, even lawyers. Is Shpoonkle an innovation that will change the way that people will think about legal services and attorneys, time will tell, but in the interim it's saving a lot of people money and making them reevaluate e-lawyering and competitive legal services. Shpoonkle may not be the most logical name for a site that helps people with legal services, but as Albert Einstein said "Logic will get you from A to B. Imagination will take you everywhere."
About Shpoonkle
Shpoonkle promotes advocacy to their members with free services. Shpoonkle is an innovative free web site that allows clients to confidentially post a legal case on line where attorneys bid for that case. The client has the option to pick any of the bidders and can communicate privately with the attorneys. Shpoonkle and Shpoonkle Canada are either registered trademarks or trademarks of Shpoonkle, LLC. in the United States and/or other countries. For more information, contact: info(at)shpoonkle(dot)com or visit: http://www.shpoonkle.com