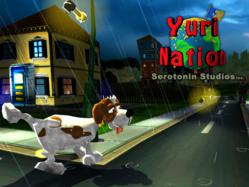 We make games that make you happy! - Serotonin Studios Inc.
Sterling, VA (PRWEB) February 23, 2013
Yuri Nation is Serotonin Studios' debut title, an action-adventure game where players control Yuri, an out-of-work dog who must prove himself by avoiding hazards while claiming territory. The development team took inspiration from classic games such as Paperboy, Grand Theft Auto, and Mario Kart, while still making it unique. Growing territory in Yuri Nation takes a certain amount of quick reflexes, strategy, a full bladder, and a sense of humor.
Players need to carefully plan routes as they dodge cars, chase away competing dogs, and evade dog catchers while marking territory before the clock runs out or enemies claim it all. Players earn bones along the way to spend on critical equipment for future missions. Equipment as simple as flea medication or as complex as an Electromagnetic Pulse (EMP) generator might be equally critical to the mission.
Serotonin Studios included a compelling and entertaining back story. Yuri is not your average dog, he was actually the last pick of the litter and was recruited by government men to be a cosmonaut. After years of training and days before his first moon mission, Yuri was replaced by a robot dog model K9-2000 and asked to retire early. He took his severance package and bought a house in Toonville. Now he must defend and grow his territory by peeing on things to prove he can out do K9-2000. With Kickstarter's help maybe someday he can make it to the moon and claim the ultimate territory.
The announcement of the game on a popular desktop gaming platform called Steam, spawned controversy over the title. Serotonin Studios underestimated the use of the word "Yuri" by Anime fans who were expecting something a little more sexual. Serotonin Studios intended the title to be a pun on "urination" with their protagonist named after Yuri Gagarin, given the space back story.
Please submit comments or questions to:
support(at)serotoninstudios(dot)com
Additional information about the game can be found on Kickstarter at:
http://www.kickstarter.com/projects/2044394581/yuri-nation?ref=prw20222
Higher quality videos are available on YouTube:
http://www.youtube.com/watch?v=M4BuZlRneag
As well in-game alpha footage with placeholder artwork at: