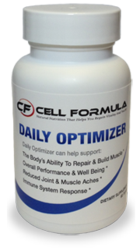 All natural testosterone boosting supplements are now available from health and wellness company, True Healthy Products and features a serrapeptase supplement in the product to experience reduced joint pain.
(PRWEB) April 19, 2012
All natural health and wellness supplements provider, True Healthy Products recently released a new line of supplements geared towards people that need to raise their testosterone or balance their hormones naturally. The new line, "Cell Formula" features the testosterone boosting supplement, "Daily Optimizer" which contains a key ingredient, Serrapeptase, that helps reduce inflammation and reduce joint pain.
The company offers a free detailed report on their Cell Formula line and it maps out how each supplement works. Visit their site to get the free report at http://www.cellformula.com.
According to the formulator, the serrapetase in the Daily Optimizer allows physically active as well as inactive individuals to experience reduced joint pain and muscle soreness, a healthier cardiovascular system, an increase in mobility and sense of overall well being.
"My sleep pattern is better now with these products. I run 40 miles a week and the Pure Energy product gives me energy and the Daily Optimizer helps me recover and repairs my muscles. These are healthy products that will enhance your performance," says Roger Craig, 3x Super Bowl Winner.
Serrapeptase Supplement in the Daily Optimizer has been shown to:

Remove dead tissue and arterial plaque
Dissipate small clots
Reduce inflammation
The company is currently running a special on their new line Cell Formula. The free product that is being offered with Daily Optimizer purchase is called, Cell Formula "Pure Energy", and as the name implies, it is a natural energy boosting supplement. Pure Energy delivers a steady energy boost without the negative side effects of jitters.
To learn more about the Serrapeptase Supplements and the Cell Formula Daily Optimizer visit the company's website at http://www.cellformula.com.
True Healthy Products
2460 N. Courtenay Parkway, Suite 210
Merritt Island, FL. 32953
888-400-2920