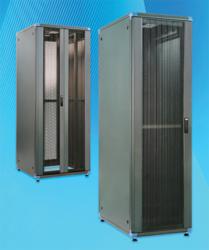 LOGIC2 server racks are so quick and easy to install – making them the obvious choice for locations where access is difficult.
Bridgeville, PA (PRWEB) January 26, 2012
Data center operators who need to install servers on sites with difficult access can now buy RETEX LOGIC2 flat-pack server racks from METCASE.
LOGIC2 server racks are the latest RETEX product now available from METCASE. They can be installed quickly and easily in locations where access is compromised by narrow doors, elevators and stairs.
These high quality, easy to assemble 19" cabinets are 1,000 mm deep and available in 600 mm and 800 mm widths with either single or double mesh front and rear doors.
They have been designed for IT and data center applications and sectors including broadcasting, entertainment, audio-visual, industrial computing and electronics.
Every LOGIC2 server rack kit comes in a robust single flat-pack carton – making the racks very easy to store and transport.
Unlike pre-assembled server racks, they are very easy to move on-site – speeding up installations, particularly in buildings where access is difficult. Transporting the units in flat-pack form also reduces the risk of damage.
It takes less than five minutes to assemble each server rack's extruded aluminum frame. The process involves just eight bolts; panels and doors can then be simply snapped into place.
METCASE, Vice President, Sales, Sean Bailey said: "LOGIC2 server racks are so quick and easy to install – making them the obvious choice for locations where access is difficult."
These tough but lightweight 19" racks can handle dynamic loads up to 660lbs (300kg) and static loads up to 2,200lbs (1,000kg).
Standard configurations include 600 mm and 800 mm wide cabinets in three different heights – 24U racks, 42U racks and 47U racks.
All LOGIC2 server racks are supplied with four adjustable 19" panel mounts. The standard finish is graphite gray powder epoxy paint.
To mount equipment wider than 19", simply discard the panel mount reduction brackets and fit the 19" profiles to the side frames to give 26" width on 800 mm wide racks.
Unique design features include front and rear doors with 190-degree opening angle and soft close operation, quick release side and vented top panels.
The mesh doors (front and rear) come in single or space-saving double door formats. Cabinets can be supplied without doors if needed.
Optional corner trims come in five colors to color code different rack configurations or match corporate branding.
All LOGIC2 server racks are manufactured from 100% recyclable materials.
A complete range of accessories is available for LOGIC2 server racks, including plinths and panels, modular fan units, cable management, 19" chassis trays, shelves, supports and rails, baying kits and PDUs.
Features of RETEX LOGIC2 flat-pack server racks:

High quality flat-pack all-in-one-box 19" rack system
Fast and simple assembly with just eight bolts
Main structure – aluminum profiles assembled using high resistance diecast corner blocks
19" panel mounts adjustable in increments of 0.787" (20 mm)
Panel mount reduction brackets provide space either side of the 19" section for cabling (W800)
Ventilated front and rear mesh doors. Hexagonal ventilation (up to 80% vented area), secured in an aluminum frame
Removable side panels with quarter turn locks
Ventilated top panel with cable entry knockouts secured by four quarter turn locks
Blue ABS corner trims fitted to the corner blocks provide an attractive appearance
Four adjustable leveling feet
Accessory baying kit
19" Standards: IEC 60 297-2, DIN 41 494 part 1 & 7, ANSI/EIA-310-D, UNE 20 539-2
Materials – frame, extruded aluminum profiles; corner blocks, diecast aluminum; adjustable 19" panel mounts (1.5 or 2 mm steel); side panels, top and doors (1 mm steel)
Colors – metal parts, graphite gray powder epoxy paint; ABS corner trims blue RAL 5007 (other colors available as accessories).
METCASE is the metal enclosures division of OKW Enclosures, Inc. For more information on RETEX LOGIC2 server racks, please view the METCASE website or contact Sean Bailey, Tel: 800-965-9872.
Notes For Editors
METCASE specializes in the design and manufacture of high quality aluminum enclosures for the electronics industry. The METCASE range has been designed to allow for modifications to be carried out with ease.
Special sizes and versions of the enclosures can be produced in batch quantities from as little as 10 units. This flexibility provides design engineers with an exceptional range of options for developing new products and variations.
METCASE is also the USA representative for the market-leading RETEX range of flat-pack 19" racks, 19" wall cabinets and SERIES 50 extruded aluminum enclosures.
METCASE is a division of the OKW Group.
OKW Enclosures, Inc
3000 Old Pond Road
Bridgeville, PA 15017
Phone: 412 220 9244
Fax: 412 220 9247
# # #