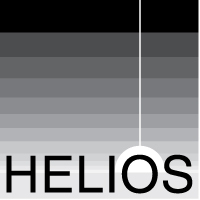 Hannover, Germany (PRWEB) February 10, 2010
HELIOS Software GmbH launched its new multi-lingual web site highlighting the features and benefits of HELIOS network and prepress server solutions for a variety of industries. The HELIOS web site's new "Industries" section addresses seven different business areas including Premedia, Printers, Photographers, Newspapers, Publishers, and Retailers, as well as Developers and System Integrators. Each profile demonstrates uses of the HELIOS software suite in that field, with real-world benefits and industry-leading features, as well as customer references.
Customers with special workflow requirements in mind will find answers in the new "Solutions" section. The HELIOS web site now offers nine different use cases including HD color, future of DTP, image processing, proofing, and printing, as well as PDF production, enterprise fileserver, workflow automation, and WebShare connectivity. Each section reviews the needs of the given use case and describes how HELIOS features fulfill the requirements. A short summary lists the main features of each solution.
Overall, the new HELIOS site makes it easier to comprehend the strength and diversity of the integrated HELIOS server products that combine file and print server services with content handling and digital asset optimization. The approach reduces the complexity of a feature-rich multi-software solution to the main benefits and use cases for individual industries and customer groups.
Additional information like newsletters, press releases, podcasts, case studies and reviews, as well as evergreen news are provided in the "News" Section. The "Support" area offer access to free downloads of helpful tools for network server administration, a 30 day HELIOS Server Solution Suite test drive, as well as product updates. Online searchable manuals, technical news and short tutorials for various installation, configuration and usage specific questions are further topics in that area.
Main features of the new web site include:

Multiple language support: English, German and French
Benefits and features grouped by industry for quick and easy access to the right product set
Solution oriented approach for easy comprehension and implementation of benefits
Case studies and reviews provide valuable information for implementation and integration
Easy access to support area, free downloads, online documentation, and helpful tutorials
Visit the new Helios Website at http://www.helios.de.
Smart Ideas for Better Networking
HELIOS UB+ Unbreakable Server Solutions deliver mission critical server solutions to enterprise, government, university, and prepress sites. WebShare, EtherShare, and PCShare provide integrated cross-platform networking for Mac, Windows and Web clients, with advanced file and print server services, and easy remote server administration. HELIOS ImageServer, PDF HandShake and PrintPreview bring high efficiency and advanced capabilities to design, prepress and printing operations.
HELIOS products run on powerful and scalable servers including Apple Mac OS X, IBM AIX, Linux, Sun Solaris, and Windows systems. HELIOS products provide reliable cross-platform support for Mac, Windows, Web and UNIX-based clients.
Distributors sell HELIOS products worldwide to value-added resellers who provide complete networking solutions to customers. HELIOS also works with many strategic partners that incorporate HELIOS server software to provide powerful third-party archive, asset management and workflow solutions.
Editorial contact:
Germany Helmut Tschemernjak, HELIOS Software GmbH, Steinriede 3, D-30827 Garbsen, Germany; Tel +49-5131-709320 Fax +49 5131-709325; E-mail: mktg (at) helios.de; Internet: http://www.helios.com
U.S.A. Thomas Hallinan, HELIOS Software GmbH, 209-827-2760, mktg (at) helios.de
Bill Gram-Reefer, WORLDVIEW, 925-323-3169, reefer (at) worldviewpr.com
###