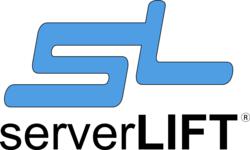 (PRWEB) August 30, 2012
Ray Zuckerman, CEO of ServerLIFT Corporation was invited to the White House to discuss domestic manufacturing in meetings held by the Manufacturing Policy National Economic Council.
The American Economic Competitive Series on Manufacturing included notable speakers including Dr. Rebecca Blank, acting Secretary of the U.S. Department of Commerce, Mark Doms, Chief of Economics, U.S. Department of Commerce and Ari Matusiak, Executive Director, White House Business Council.
The forum was highlighted by the Administration's view regarding areas of past, ongoing and future support for manufacturing covering areas of education, supply chain, regulation, and government relations; accentuated by the participating speakers' emphasis on the Administration's commitment to manufacturing as the lynchpin to a strong economic recovery.
"ServerLIFT is immensely honored and humbled to be selected among the many prestigious corporations working towards promoting United States domestic manufacturing. We consider this to be a true accolade and we are incredibly grateful for the opportunity". – Ray Zuckerman
ServerLIFT Corporation is a privately-held company based in Phoenix, Arizona that manufactures specialized lifting devices designed to safely handle IT equipment in data centers. In business since 2002, satisfied ServerLIFT Customers can be found in 39 countries worldwide.
For more information, videos, and product details visit http://www.serverlift.com