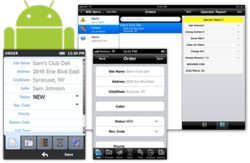 With Service Pro Mobile, service organizations will realize a rapid return on investment with world-class field service management capabilities in an easy to use, easy to deploy package."

- Harvey Shovers, President of MSI Data.
Milwaukee, WI (PRWEB) February 08, 2012
MSI Data, a leading provider of field service management software and depot repair software, today announces the release of Service Pro® Mobile, a smartphone or tablet-based mobile field service productivity application. Developed to help organizations improve customer satisfaction, increase technician utilization and boost service delivery efficiency, Service Pro® Mobile empowers service technicians with real time work order, customer, asset, inventory, warranty, inspection and other call resolution information.
Service Pro® Mobile improves management of the entire field service operation, from technician-based paperless work order management in the field to more efficient scheduling, dispatching and billing processes in the home office. Whether used in combination with Service Pro® or a pre-existing home office field service management system, Service Pro Mobile dramatically increases field technician efficiency as well as management visibility of field operations.
Service Pro® Mobile Automates Work Orders and Inspections
Service Pro® Mobile brings work order and inspection management together in one, easy to use mobile application, providing organizations whose service technicians perform inspections as well as service and preventive maintenance work with an all-in-one mobile field service application for their field workforce.
"Service organizations understand that a more informed technician is a more productive technician," said Harvey Shovers, President of MSI Data. "With Service Pro® Mobile field service software, they will realize a rapid return on investment with world-class field service management capabilities in an easy to use, easy to deploy package."
Service Pro® Mobile runs native on Android, iPad, iPhone and Windows; On-Premise or Cloud
Service Pro® Mobile's deployment options provide service organizations with the flexibility they need in the rapidly changing mobile marketplace. Available for Android, iPad, iPhone and Windows mobile devices, Service Pro Mobile may be deployed on each of the dominant smartphone and tablet platforms, and supports the increasingly popular "Bring Your Own Device (BYOD)" enterprise mobile device strategy.
"The dramatic changes in the mobile platform market in recent years have pushed deployment flexibility to the forefront," said Shovers. "By supporting Android, iOS and Windows devices in the cloud or on-premise, service organizations have the vital options they need to make their mobile field service rollout a success."
Service Pro® Mobile includes many paperless service management capabilities for technicians, including:

Service Technician Status
Important Alerts
Work Order Management:
o Site Contacts
o Site Equipment Assets
o Warranty Tracking
o Technician Time Tracking
o Inventory Tracking
o Asset Inspections
o Service History
o Photo Capture
o Signature Capture
About MSI Data
MSI Data develops enterprise, scheduling and mobile software that helps companies improve the productivity of their field workforce. World class service organizations such as Time Warner, Bradley Corporation, Tax-Air and Heartland Computers rely on MSI Data's powerful suite of field workforce software to automate field service, inspections, site surveys, audits, reporting and other critical field-driven business processes. MSI Data replaces paper and disconnected spreadsheet-based business processes with highly efficient, end-to-end processes through the combination of mobile technology for field workers and ERP, CRM and accounting systems integration. Whether deployed in the cloud or on-premise, MSI field workforce software applications are easy to acquire, easy to deploy and deliver enterprises with rapid return on investment. To learn more, please visit http://www.msidata.com.
About Service Pro®
Service Pro®, MSI Data's flagship depot repair and field service software product, gives companies the ability to closely align field service and repair center business processes with software. Service Pro® helps organizations more effectively manage field service operations such as contract and warranty management, service parts and logistics, depot repair and order processing, advanced scheduling, inspection, mobile field service, and advanced business intelligence reporting. Service Pro® is available as either a hosted/cloud or on-premise solution providing a scalable low cost subscription model. In most cases organizations can be up and running with Service Pro® in a matter of weeks. To learn more about Service Pro®, please visit http://www.msidata.com/servicepro/index.html.
###