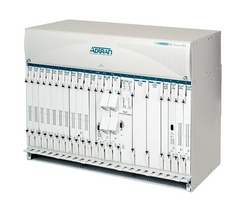 We are excited to have the Total Access 5000 approved for deployment in EMBARQ's network
HUNTSVILLE, Ala. (PRWEB) June 16, 2008
"The services and applications that our customers need are becoming more data centric," said Jim Hansen, senior vice president of Network Services, EMBARQ. "This is driving our network toward more converged, packet-based technologies like Ethernet. The Total Access 5000, with its core Ethernet architecture, provides us with the flexibility to support a wide range of applications—all with the same platform."
"We are excited to have the Total Access 5000 approved for deployment in EMBARQ's network," said Bob Fredrickson, vice president of sales, ADTRAN Carrier Networks Division. "The Total Access 5000 is a great solution for not only enabling broadband services for both residential and business solutions, but for helping carriers like EMBARQ with the migration of existing services onto the IP/Ethernet core."
The ADTRAN Total Access 5000 is a carrier class multi-service access and aggregation platform that bridges the gap between existing and next-generation networks. With an all-Ethernet core, the Total Access 5000 supports both legacy and emerging service interfaces over copper and fiber, easily scaling to support bandwidth intensive applications. This scalable Ethernet architecture allows carriers to use the Total Access 5000 to economically address both legacy and next generation services while providing a seamless path toward a converged network.
About EMBARQ
Embarq Corporation (NYSE: EQ), headquartered in Overland Park, Kansas, offers a complete suite of communications services. The company has approximately 18,000 employees and operates in 18 states. EMBARQ is included in the S&P 500 and is in the Fortune 500® list of America's largest corporations.
For consumers, EMBARQ offers an innovative portfolio of services that includes reliable local and long distance home phone service, high-speed Internet, wireless, and satellite TV from DISH Network® -- all on one monthly bill.
For businesses, EMBARQ has a comprehensive range of flexible and integrated services designed to help businesses of all sizes be more productive and communicate with their customers. This service portfolio includes local voice and data services, long distance, Business Class High Speed Internet, wireless, satellite TV from DIRECTV®, enhanced data network services, voice and data communication equipment and managed network services.
For more information, visit embarq.com.
About ADTRAN
ADTRAN, Inc. is a leading global provider of networking and communications equipment, with a portfolio of more than 1,700 solutions for use in the last mile of today's telecommunications networks. Widely deployed by carriers and enterprises alike, ADTRAN solutions enable voice, data, video, and Internet communications across copper, fiber, and wireless network infrastructures. ADTRAN solutions are currently in use by every major U.S. service provider and many global ones, as well as by thousands of public, private and governmental organizations worldwide.
For more information, contact the company at 800 9ADTRAN (800 923-8726) or via e-mail at info@adtran.com. On the Web, visit http://www.adtran.com.
Keyword Tags:
adtran, embarq, ethernet, ip, total access
MULTIMEDIA GALLERY http://www.businesswire.com/cgi-bin/mmg.cgi?eid=5709541