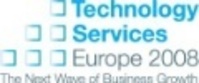 The conference is the first chance European technology services executives from across the core disciplines of field service, call center support and professional services have had to gather together and focus on this important topic
SAN DIEGO (PRWEB) February 6, 2008
The theme of the conference is "The Next Wave of Business Growth." Designed specifically for Europe-based services managers, the conference will feature over 30 sessions that provide actionable strategies and best practices on how to leverage services to drive corporate growth and profitability in today's fast-changing technology marketplace.
To illustrate the impact services has on the profitability of technology companies, data from the new Europe Service 25(SM) will be presented. This new industry index produced by the three sponsoring associations assesses 25 of the most influential European technology solution providers in the marketplace. Analysis will focus on key financial performance metrics that underscore the critical role that services play in driving corporate revenue and profits. The data will allow senior executives to benchmark their companies on product-service mix, service margins, and other leading financial performance indicators. "Services have achieved unprecedented levels of strategic and financial importance in today's technology companies. Just look at the earnings statements of major technology firms and it's clear that services now generate a significant percentage of company revenue, profits and overall growth," said J.B. Wood, president and CEO of AFSMI, SSPA, SRII and TPSA.
"The conference is the first chance European technology services executives from across the core disciplines of field service, call center support and professional services have had to gather together and focus on this important topic," said Wood.
Technology Services Europe will feature keynote and breakout sessions presented by European services executives from Philips Medical, Microsoft EMEA, Canon Business Solutions, Sun Microsystems, Systar, SAP Germany, EMC Germany GmbH, Siemens IT Solutions & Services, a&o systems + services UK Ltd and others.
For more information on the Technology Services Europe 2008 conference, visit http://www.technologyserviceseurope.com/.