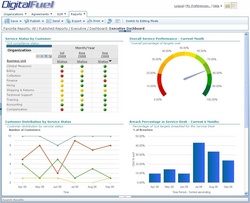 The Service Desk Software Market
SAN MATEO, Calif. (PRWEB) September 22, 2008
"Service Desks are on the front lines of IT service delivery," said Yisrael Dancziger, CEO of Digital Fuel. "Today they use powerful solutions to manage incidents and problems, but have no way to respond to business services' customer demands and expectations, and manage service levels to deliver real business value. Our new pre-defined SLM for Service Desks solution helps our customers do exactly that, faster and with much less hassle, extending the power of existing investments and delivering instant value out of the box."
"The full power of the ITIL process model is only achieved when processes extend out from the Service Desk and integrate with the operations side of IT," states Forrester Research principal analyst Peter O'Neill in the Forrester Research report entitled "The Service Desk Software Market," July 2007.
SLM provides an application necessary to augment Service Desks and realize ITIL v3 benefits. The Digital Fuel Pre-defined SLM solution for Service Desks delivers important ITSM business value and expands on Digital Fuel's offering as highlighted by Peter O'Neill in the Forrester Report titled "Digital Fuel Technologies Offers Service-Level Management At Its Finest for BSM" (Forrester Research, March 2007).
Digital Fuel is the global service management standard for the world's best run service organizations. The company's ServiceFlow suite of business applications includes an advanced IT Service Portfolio Catalog, Service Level Management (SLM) and Service Financial Management (SFM), which enable service organizations to easily answer key questions such as:
What services are available? How well am I delivering on my service commitments? How much is it costing? Digital Fuel's new Pre-Defined SLM solution for Service Desks is based on the accumulated expertise and best practices of more than 500 organizations worldwide. The pre-defined content provides a foundation, which can be used immediately or easily modified to meet the specific needs of the organization, while creating unprecedented operational efficiencies automating the creation of core service level definitions.
The new SLM solution for Service Desks is available now. For more information, go to http://www.digitalfuel.com.
About Digital Fuel
Digital Fuel Technologies, Inc., is the leading provider of Service Catalog, Service Level Management (SLM) and Service Financial Management software solutions for IT, Communications, HR, F&A in enterprises and commercial service providers. The company's ServiceFlow business software applications manage billions in Telco, IT and other business services at companies and governments around the world such as British Telecom, Cisco, Computacenter, CSC, Cummins, Dell, General Electric, IBM, Nestle, O2, Procter & Gamble, Siemens, SITA, Sprint, Steria, Telefonica, Telus, WiPro and many others. Digital Fuel is headquartered in San Mateo, California, USA, with offices across North America and Europe. Learn more at http://www.DigitalFuel.com.