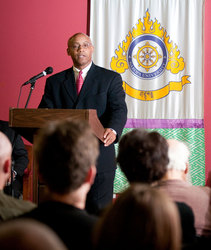 If we can inspire students to think about transforming the problems of the world, and learning habits of the heart while they are studying, it can serve as a foundation for engaged learning and engaged service
Boulder, Colo. (Vocus) October 16, 2009
With a proven history of success at other institutions, the new president of Naropa University, Dr. Stuart C. Lord, seeks to boost the level of Naropa's involvement in the broader community. In honor of President Lord's commitment, Naropa will hold the Naropa University Day of Service & Learning during his inaugural weekend, from 8 a.m. until 4:30 p.m. on Oct. 30, 2009. For more information please go to http://www.naropa.edu/inauguration .
Naropa's Day of Service and Learning is open to the public and will begin with a period of contemplative practice, followed by a "kick-off breakfast". Speakers will accompany breakfast and lunch, including the topic of Service-Learning in Higher Education and a "Community Café" meeting titled ''Examination of Local Social Issues and Opportunities to Address Them.''
Members of Naropa's student body, faculty and staff will participate in a number of off-campus and on-campus service projects on Oct. 30. For example, participants will visit the Sister Carmen Community Center in Lafayette to help with sorting food and clothing donations, and others will assist Growing Gardens in north Boulder with harvesting the fall crop. Projects have also been scheduled with the I Have a Dream Foundation in Boulder, Flatirons Habitat for Humanity in Broomfield and Project YES (Youth Envisioning Social change) in Lafayette, among many other entities. The public is invited to join. If interested, please complete the Day of Service and Learning registration form at http://www.naropa.edu/inauguration/dayofservice.html .
Participants of Service and Learning will have the opportunity to combine service-related action with contemplative learning. President Lord hopes that students who engage the community through service will also bring the issues they encountered back to the classroom, where a transformative problem-solving process can begin.
"If we can inspire students to think about transforming the problems of the world, and learning habits of the heart while they are studying, it can serve as a foundation for engaged learning and engaged service," said Lord.
On Oct. 30, Lord plans to spend his service time off-campus at a variety of sites. But he also said his commitment to service won't end at 5 p.m.- and he wants the entire Naropa community to follow his lead.
"This is not just a Day of Service. This is the beginning of a refocusing and a reinvigorating of our commitment to service," said Lord.
Lord came to Naropa from DePauw University (1988-2000) and Dartmouth College (2000-2009), where he made strong commitments to increasing levels of student service at both institutions. Student body participation in community service increased from 25 percent to more than 93 percent during his tenure at DePauw, and from 45 percent to more than 70 percent during his time at Dartmouth.
He has also built an impressive record of personal service. Lord has led international service trips to Bangladesh, Nicaragua, the Philippines and Sierra Leone. He has developed programs to aid domestic communities, including areas ravaged by Hurricane Katrina. In 1996, he was the executive director of the President's Summit for America's Future under President Clinton. In this role, Lord provided leadership to a national volunteer initiative targeted at improving the quality of life for America's youth.
"I think that the mission of Naropa University has always been 'teaching with a heart,'" said Lord. "In the classroom, the local community and the global community, the goal is to prepare them to be citizens in the world, but not just an average citizen - an active citizen."
While only time will tell how many members of the Naropa community will follow Lord's call to service, he won't have to convince Portia Johnson to dedicate herself to service-learning. She's already doing it at Sanchez Elementary, and she's also helping to coordinate Day of Service activities for Lord's inauguration.
Johnson, a Naropa senior who is majoring in Early Childhood Education, said service-learners help create a reciprocal relationship in which the student and the community member(s) learn from each other. She has spent most of her service-learning time in youth empowerment programs, and she is currently involved as the coordinator of a program called ''Arts for Social Change'' at Sanchez Elementary School in Lafayette.
"In service-learning,'' said Johnson, ''all parties are partners, learning and benefiting from each other through communication - asking each other what they really want and need…there is no server and no served. The fact that Dr. Lord has reached out into the Naropa community to create a day dedicated to service speaks to the importance he places on it and the path which he desires to continue steering the university."
Naropa University has a long-standing history of participation in community partnerships and service learning programs throughout the Denver metro region, including the Denver Vet Center, the University of Colorado Center for Multicultural Education and Boulder County Mental Health. Peace Studies students have been active in the ''Reading to End Racism'' program in Boulder public schools. Graduate psychotherapy students have served at internship placements throughout the state of Colorado for three decades.
Accredited by the Higher Learning Commission of the North Central Association of Colleges and Schools, Naropa University is a private, nonprofit, nonsectarian liberal arts institution dedicated to advancing contemplative education. This approach to learning integrates the best of Eastern and Western educational traditions, helping students know themselves more deeply and engage constructively with others. The university comprises a four-year undergraduate college and graduate programs in the arts, education, environmental leadership, psychology and religious studies.
###