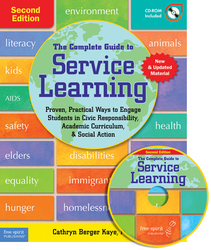 If there is a bible of K–12 service learning, it is Cathryn Berger Kaye's 'The Complete Guide to Service Learning.'
Minneapolis, Minnesota (Vocus) April 1, 2010
Service learning has evolved far beyond the latest "feel-good" fad. It has become a vital element of a well-rounded curriculum: through service learning, we can engage young people in learning about and addressing critical issues while contributing to the betterment of themselves and others. To provide the most thorough service learning experience possible, educators have consistently reached for our classic classroom guide—now fully revised and updated.
"The Complete Guide to Service Learning: Proven, Practical Ways to Engage Students in Civic Responsibility, Academic Curriculum, & Social Action" (Revised & Updated Second Edition) book with CD-ROM by Cathryn Berger Kaye, M.A. (Free Spirit Publishing, $39.99), is the comprehensive resource to help teachers and youth workers engage young hearts and minds in service learning. At its best, service learning connects standards-based curriculum with the inherent caring and concern young people have for their world. The results are memorable, lifelong lessons for students that foster a stronger society for us all. This newly revised and updated second edition maintains the easy-to-use format of the original and is enhanced to reflect the most up-to-date information on service learning programs and pedagogy.
Praise for "The Complete Guide to Service Learning":
"If there is a bible of K–12 service learning, it is Cathryn Berger Kaye's 'The Complete Guide to Service Learning.'"
—Youth Service California
"Rich in information, ideas, and practical suggestions, this guide inspires and reminds me how important our youth are and what valuable contributors they can be. Cathryn's book brings learning and service to life."
—Elaine Liebsohn, America's Promise Alliance
Additional features include:

New thematic chapters: Emergency Readiness and Healthy Lives, Healthy Choices
A CD-ROM packed with customizable forms, book recommendations, author interviews, and original essays by service learning professionals
Detailed discussion of the Five Stages of Service Learning, including investigation
Alignment with the K–12 Service-Learning Standards for Quality Practice
Updated book and Web resources for every thematic chapter
and much more
Cathryn presents a wealth of ideas, examples, templates, and tips to make service learning work in any classroom. Her expert guidance takes the reader every step of the way, from getting started through assessing the experience. Thematic chapters on a variety of topics (animals, the environment, hunger, social justice, and more) include activities, theme-specific resources, stories of actual service learning experiences, and an extensive bookshelf of nonfiction, fiction, and picture books to enhance the learning.
"The Complete Guide to Service Learning" is an indispensable guide for anyone who cares about service learning—teachers who teach it, officials who mandate it, youth leaders who facilitate it, and kids who practice it.
Contact: Jenni Bowring, 612-746-6848, http://www.freespirit.com
About the Author
Cathryn Berger Kaye, M.A., is a former classroom teacher, a nationally recognized expert on service learning, and an International Service Learning Consultant. She works with state departments of education, university faculty and students, school districts, and classroom teachers on a variety of educational issues such as service learning, civic responsibility, student leadership, and respectful school communities. She also is the author of the How to Take Action! series, including "A Kids' Guide to Protecting & Caring for Animals," "A Kids' Guide to Climate Change & Global Warming," and the forthcoming "Going Blue: A Teen Guide to Saving Our Oceans & Waterways," with Philippe Cousteau and EarthEcho.
# # #