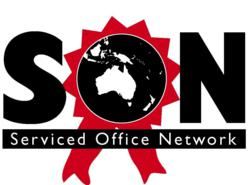 The new functionality of the Serviced Office Network NSW website cuts through the clutter when searching for serviced offices Sydney.
Sydney, NSW Australia (PRWEB) November 19, 2012
When searching for serviced offices or other services and products on search engines one may come across websites that may be filled with unrelated ads, websites that direct to other sites which direct to other sites while still not providing the information needed, do not provide as comprehensive information as is needed, ask for contact details as a condition to provide information, or that claim they provide a service/product in an area as a "directory" but then do not.
The new functionality of the website of the Serviced Office Network of NSW cuts through the clutter when searching for serviced offices Sydney or a virtual office Sydney. A Google Map on the homepage shows the locations of all Serviced Office Network centres in the Sydney area. Users may quickly cross reference location map markers with serviced office centres by name, building name, address, web page link, phone number, e-mail link, and leasing manager name. All the information is on the home page.
A multicentre enquiry form empowers users to enquire conveniently with multiple centres at once, and only with the Sydney CBD and suburban locations that they are interested in.
Serviced offices offer a convenient and cost effective range of solutions for many different companies from home/offices, small businesses, medium sized businesses, and large businesses. A business may have an HQ in one city yet may wish to have business presences of varying degrees in serviced office centres in several cities to help spur growth. Or, a home/office may turn to a serviced office centre for meeting room hire, virtual office services, an office away from the distractions at home, or for office space when adding staff.
Many businesses have found the flexibility of serviced offices quite attractive; from a professional setting for a one hour business meeting to an office space that may start immediately on a convenient month to month arrangement or short terms of 3, 6, or 12 months. Many businesses face outlooks with a wide range of possible success outcomes, and maintaining flexible office services or office space is quite desirable.
Serviced Office Network locations in NSW and in other states of Australia also provide virtual office services. If you are after a virtual office Sydney or meeting room hire Sydney in the Sydney CBD or surrounding Sydney suburbs then this website is quite helpful.
A virtual office Sydney may consist of phone answering, a prestigious business address, and occasional meeting room hire – all without a full-time commercial office, and at a fraction of the cost.
Some major locations of the Sydney Metropolitan area that are sought after for serviced offices are serviced offices sydney CBD and serviced offices North Shore. Within the North Shore of Sydney is serviced offices North Sydney with nearby locations in Crows Nest and on the upper north shore in Gordon. To the East of the Sydney CBD and close by is Edgecliff Serviced Offices and to the South closer to Sydney Airport is Mascot.
So if you are looking for a convenient website to simplify your search for serviced offices in Sydney, virtual office Sydney, or meeting room hire in Sydney then click on over to the Serviced Office Network NSW website: http://www.serviced-offices-sydney.com.au
The Serviced Office Network (SON) is the leading network of serviced offices, virtual offices, and meeting room hire across Australia.