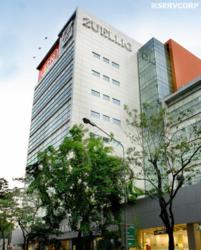 During the month of June, Servcorp is offering a 50% discount for 6 months, for a serviced office rental.
(PRWEB) June 19, 2013
During the month of June, Servcorp is offering a 50% discount for 6 months, for a serviced office rental. Because of its highly efficient and advanced services, Servcorp consistently outmaneuvers the serviced office competition and offers premium discounts along with the great service. Businesses will experience quick exponential growth when choosing a serviced office that fits their needs. In addition, Servcorp offers quality virtual offices that enable start-ups and other businesses to get started with little waiting time and minimal overhead costs that often delay the growth and potential of a business. The many ultra-modern facilities that are part of Servcorp's services include spacious meeting rooms, fully-equipped boardrooms, and an array of day offices in various locations to suit the needs of any businessman or businesswoman. The staff at Servcorp's serviced facilities will be able to assist clients with any needs that arise including phone answering and mail services, appointment setting, technological needs, catering, and many others. Their proficiency in English is also an important attribute which enables reliable and convenient to be conducted for all clients. Servcorp can easily be contacted to take advantage of the current promotion at any of its many international locations.
Businesses Have Access to the Most Advanced IT Services
Servcorp has an amazing choice of services when it comes to IT technology. When managing a business, clients need to have access to the most up-to-date communications technology. Serviced offices with advanced technology and flexible contracts are becoming popular these days in an economically unpredictable environment. Servcorp is at the forefront of this affordable and efficient market and understand its client's needs to provide the best service possible.
Servcorp's Spectrum of Choices Allows Their Clients to Design an Image
Finally, contemporary comfort and a well-designed serviced office are necessary for business owners, workers, and customers to feel comfortable and well-cared for. Servcorp has any size or style of serviced office available to suit many tastes located in key locations around the city.