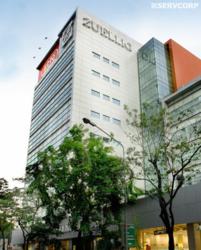 (PRWEB) April 01, 2013
Servcorp is a recognized leader in providing serviced and virtual offices worldwide, along with premium business identity packages. Business leaders, directors, owners, and entrepreneurs can get informed on the latest business trends going on in Southeast Asia and around the world. This is the opportunity to learn and take advantage of the knowledge that will enable business people to embrace a successful future in their business ventures.
As ASEAN Takes Shape, Business Savvy Leaders Take Advantage of Networking in Bangkok.
Right now, with the new ASEAN community forming, it is important to acquire the latest knowledge and information technology to stay ahead of the curve. This is a chance to move in on this burgeoning market and start networking with the movers and the shakers in the Southeast Asian area, to connect with local and international business people and get updated with all the newest technology and business trends going on in Bangkok, and around the world. People will also have a chance to sign up with Servcorp's amazingly adaptable and portable online virtual office services. Whether they are a start-up or an established business here in Bangkok, this is the chance for them to share ideas with like-minded people and meet new capable and talented people who are looking to connect and share ideas.
Get in the Know and Schedule One of These Downtown Bangkok Servcorp Events
At the three scheduled events, there will be Hawaiian music played, beverages and canapés served, and a demonstration of Servcorp's IT services such as Find Me Follow Me. There will be networking time for clients and people can get to know one another and focus on business related endeavors and ventures. There will be three separate times that this event will be held:
Apr. 4 at Central World
Apr. 10 at Park Ventures
Apr. 11 at Silom Road
There are a lot of dynamic things going on in the "Big Mango," so this is a great opportunity to take advantage of being in the "know" and learning about how to manage a business effectively and efficiently; get the latest information about the IT services available on the internet and join a dynamic crowd of people who are focused on implementing the newest marketing techniques to grow their business, while sharing their own knowledge and expertise in their industry. Those who understand the newest trends in business marketing and technology will have an edge over their competitors and be able to better navigate themselves towards a successful future.
Connect to the Internet Worldwide As Businesses Integrate Globally
Some of the services offered by Servcorp that business people can also learn more about include its global internet service, which allows people to make and receive calls in lounges worldwide, as well as unlimited video calls in 140 international locations. Servcorp also offers state-of-the-art access to the cloud, and is managed by its global access center and high-speed internet worldwide. In addition to these internet services, a virtual receptionist can make a business sound like a fortune 500 company in whatever language someone chooses to communicate in with clients.
Business travelers need to have the latest and most up-to-date communications technology, and having access to a business number and Onefone technology for your PC Smartphone, or tablet with international internet, can be a huge benefit for staying in touch with clients. It is imperative to be able to connect with clients quickly wherever someone is in the world, and services such as unlimited video calls are available between Servcorp locations for a monthly fee. Business people can also make a great first impression and project an international image by having an address and phone number in a major city of their choice. Call routing can be customized by a virtual receptionist to be sent however and whenever it is convenient.
With all of the most technologically advanced information and amenities at disposal, access to growing business and reaching the pinnacle of success is at fingertips-literally. Servcorp gives the capability to make and receive calls using PC, smartphone, or tablet, and allows quick access to the most important voice mails with caller ID while putting people directly through to their voicemail and email inbox. Servcorp can be contacted today to sign up online for a thirty day free trial for a local address and phone, accompanied by an automatic receptionist who will route messages to a mobile, voice mail, office, or anywhere in the world.