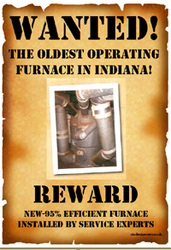 You can view these new furnaces at the Indianapolis Home and Garden Show at the Indianapolis Convention Center on January 8-10. Also at the State Fairgrounds January 29-February 7 for the Indianapolis Home Show.
Cincinnati, OH (PRWEB) January 8, 2010
The contest being offered by Service Experts of Indianapolis is a search for Indiana's oldest operating furnace. Service Experts of Indianapolis has received numerous entries since the contest began in late November. There have already been winners of the previous contest who have received a free furnace replacement.
When asked, Doug Edwards said, "We have received a good number of entries with equipment ranging from 12-17 years old, but we know there are folks out there with furnaces much older than that. The contest offers to replace the oldest inefficient furnace still in operation with a new energy-efficient furnace to reduce heating bills, reduce fuel consumption and increase comfort. We all want to reduce fuel consumption. We all need to save money. And who doesn't want to be more comfortable?"
The contest is open to residents of Indianapolis, Brownsburg, Carmel, Fishers, Plainfield and other communities near Indianapolis. All anyone needs to do to enter the contest is email (Doug. Edwards @ serviceexperts.com, without spaces) with their name, address and phone number along with a photo of their furnace and the brand and model number of the furnace for verification.
Upon confirmation of the winning entree, Service Experts of Indianapolis will offer to remove and replace the obsolete and inefficient furnace with a Lennox G71P. This is the quietest and one of the most efficient furnaces available on the market today. This 95% efficient unit features a variable speed blower motor and modulating gas valve, this unit will be installed at no cost to the recipient.
Just for entering the contest, residents qualify to receive a free in home energy analysis of their furnace and attic insulation. Note: This service is available upon request by calling 317-780-5299. Just ask for Faizzy Saghir.
Edwards also said, "You can view these new furnaces at the Indianapolis Home and Garden Show at the Indianapolis Convention Center on January 8-10. Also at the State Fairgrounds January 29-February 7 for the Indianapolis Home Show."
The Oldest Furnace Contest has also gained attention from a few unexpected parties. Harry Rybolt, a resident on the Northwest side of Indianapolis contacted Service Experts in early December after reading the original article. Harry Rybolt's family owned the Rybolt Furnace Company that originated in Ashland, Ohio.
Mr. Rybolt worked for the family business from 1937 into the early 1980's before moving to Florida to pursue a furthered education as a mechanical engineer. Mr. Rybolt and his daughter Dotsie Longworth contacted Service Experts to see if they had come across any Rybolt furnaces in the process of reviewing recent entries to the contest.
Edswards told us, "We haven't seen a Rybolt furnace yet but I have reviewed every entry in hopes of catching one for Mr. Rybolt. says sales manager Faizzy Saghir."
He went on to say, "The oldest furnace contest has raised awareness throughout our community over the last few weeks; we have had a lot of entries along with heightened interest in solutions for high heating bills and customized zoning systems."
Efficiency and comfort are the two primary objectives as a home or business owner. Service Experts is taking a leading role in zoning and custom design for residential and commercial applications in the Indianapolis metropolitan area. Service Experts of Indianapolis is also leading the way to help the environment and to reduce fuel consumption in the Indianapolis area. Furnace repalcements can help on both issues.
Service Experts of Indianapolis is the premier provider of customized zoning solutions. Mr. Edwards said, "If you are tired of dealing with an uncomfortable home such as the typical hot upstairs and cold downstairs, if you have drafty areas, or are just uncomfortable in your home and tired of being uncomfortable Service Experts has a solution for you."
For more information about comfort design services, heating, cooling and indoor air quality please visit us at ServiceExpertsof indy.com or call us at 317-780-5299.
# # #