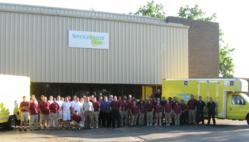 People often think of a disaster as something that strikes their community or region, but emergencies that happen in the home can be devastating for a family."
said IEMA (Illinois Emergency Management Agency) Director Jonathon Monken.
Chicago, Illinois (PRWEB) January 31, 2012
ServiceMaster Restoration by DSI (one of the largest U.S. operators of ServiceMaster Clean franchised businesses) has launched a new website http://www.servicemaster-dsi.com and has joined RestorationMasterFinder.com (RMF) to expand their online marketing and bring their expertise to a broad range of potential clients. RMF is a cost-effective online leads generation program developed by Proceed Innovative exclusive to restoration and cleaning service providers.
Steve VanDenBerg, President/CEO ServiceMaster Restoration by DSI says, "Our work with Proceed Innovative has been very rewarding. Their experience and Internet knowledge allow us to focus on marketing programs that bring results and directly affect our bottom line. We look forward to expanding our online marketing programs gaining more local and national visibility to reach increasing numbers of potential clients for ServiceMaster Restoration by DSI".
RestorationMaster Finder is powered by optimized search engine visibility on Google, Bing, Yahoo and more than 100 other local, vertical and social media web portals. It has the built-in flexibility to accommodate future technology trends and upgrades so the website can continuously operate at peak performance assuring the highest search engine visibility on a national and geo-specific level as well as service a maximum number of prospects.
ServiceMaster Restoration by DSI grew throughout the 1980's gaining a reputation for quickly restoring homes and businesses after they suffered fire and water damage. As the business grew the ever increasing customer base needed more than just fast clean- up. To meet this demand, they added reconstruction and general contracting, HVAC cleaning, and mold remediation services to their service portfolio. Today they are a privately held service business management company that owns over thirty ServiceMaster Clean franchise licenses operated from branch offices in Illinois including Chicago, Downers Grove, Lake Zurich, Champaign, Rockford, Springfield, Alsip, and Princeton. They are one of the largest operators of ServiceMaster Clean franchised businesses in the United States. They meet the stringent demands of the ServiceMaster Clean brand and are recognized as a leader in performance, service, and quality. They deal with home and business emergency fire and water damage restoration, mold remediation services and carpet cleaning in Chicago area and throughout Illinois. ServiceMaster DSI Corporation provides help with calamities 24/7, 365 days a year.
ServiceMaster DSI is passionate about their business, excited about the new website, and committed to continuing to provide the absolute best results for their customers. Visit http://www.servicemaster-dsi.com to learn about ServiceMaster DSI"s home, business and emergency services and what clients have to say about the outstanding results they have achieved. Contact ServiceMaster DSI at (888) 488-8822.
###