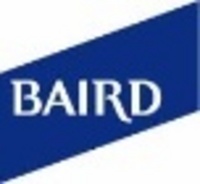 This year's conference is particularly relevant for Human Capital Services companies, as investors seek to understand how a slowing economy will impact this sector.
BOSTON (PRWEB) February 20, 2008
"We are pleased to host leading business services companies and investors for this important and timely conference," said Director of Research Robert Venable. "This year's conference is particularly relevant for Human Capital Services companies, as investors seek to understand how a slowing economy will impact this sector."
Q&A with Senior Human Capital Services Research Analyst Mark S. Marcon, CFA
As a preview to the conference, Baird spoke with senior research analyst Mark Marcon for his outlook on the human capital services sector. Marcon recently published a special report that provides considerable detail on the investment potential of human capital services stocks during an economic slowdown.
How will the slowing economy affect human capital services companies?
Fundamentally, most human capital services companies are tied to the labor market, and the labor market slows as the economy slows. Clearly, the economy is slowing and, potentially, entering a recession. The data that we look at suggests that the labor market is also in the early stages of slowing. We think the slowing labor market will impact earnings in the short term. That said, human capital services stocks are one of the first stock sectors to reflect concerns regarding a slowing economy and many stocks have already discounted a downturn. Valuations are now very attractive for a number of these companies.
What signs/indicators are you watching?
Recent labor market data, including the January BLS employment report, has been weak. The rate at which the economy is adding jobs has clearly slowed. Manufacturing and construction employment has already declined. Forward looking indicators like the Monster Employment Index and the Help Wanted Advertising Index, which both provide a measure of hiring intentions, indicate broader slowing in the labor market is likely. The ISM non-manufacturing index fell to levels that are consistent with a recession in January. All of these data points suggest a more challenging near-term fundamental outlook in the U.S.
What scenario do you believe is most likely for the sector?
We believe there are three likely economic scenarios: 1. A moderate slowdown followed by an upturn in the second half of '08; 2. A mild recession; or 3. A severe recession. Many argue that a mild recession is the most likely scenario, and that is what the data suggests to us.
In the first scenario of a moderate slowdown, we believe many human capital services stocks would likely provide outsized returns over the near term as many investors have already discounted a recession. Even if a mild recession occurs, we still believe that there is an attractive investment opportunity over a 1-to-3-year horizon, though some near-term volatility would likely exist. In the event of a severe recession where fundamentals remained depressed for a prolonged period, it could take longer than 2 years for some stock prices to reach prior peaks, but we believe these stocks would likely outperform over a three-to-four-year period. Even in the case of a severe recession, the stocks would likely be volatile, both to the up and downside, creating shorter term trading opportunities.
What impact would a recession have on their fundamentals?
In past recessions, staffing and recruiting companies experienced material declines in revenue and profits. In the case of HR and outsourcing services, such as payroll service providers, the cyclical influence isn't as great as many companies feature fairly predictable recurring revenue stream models. We have already reduced our estimates for the companies on our coverage list to reflect our assumption that the US will enter a mild economic downturn.
We believe that if there is a moderate recession, most human capital services companies will perform fundamentally better than they did during the last slowdown that started in 2001. First, Corporate America has been generally more disciplined about hiring during the latest expansion relative to past expansions - we simply haven't had the bubble and euphoria that characterized the labor market of the late '90s and 2000. As a result we would generally expect a correspondingly smaller labor market contraction in a downturn. Likewise, we believe the staffing and recruiting industry, is also likely to see a less serious contraction than was experienced during the 2001-2003 downturn. Also, because the Fed Funds target rate will likely not be reduced as much in this cycle as it was in the previous cycle, float income for payroll services companies should not be as severely impacted.
Today, human capital services companies have conservative balance sheets and most are more mature, better managed, and well-positioned than they were in the last downturn. We believe the vast majority of the public companies we cover will be capable of successfully navigating a downturn.
So is there a buying opportunity here?
Yes. Most of these stocks have already pulled back materially, and we believe many of the human capital companies are under-valued relative to their intrinsic value. We believe that the risk-reward profile is favorable for a lot of companies, particularly for investors that take a longer view. It is probable that peak earnings during the next cycle will be materially higher than it was during this cycle. Historically, these companies have traded like growth cyclicals and have traded up before fundamentals hit bottom. So for investors with longer-term horizons, the risk reward for some of these stocks has become compelling.
So your outlook over the long run is positive?
Yes -- for both cyclical and secular reasons. This cyclical downturn, if it materializes, is coming right before the period when the Baby Boom generation will enter their retirement years. Demographic projections suggest a significant increase in retirees starting in 2009 and continuing to increase through 2022 in the U.S. as well as Western Europe and Japan. This demographic trend is likely to drive greater churn and tightening in the labor market - this would lead to a very favorable demand backdrop for almost all staffing and recruiting related services as many client companies will require help recruiting replacements for their retiring workers. There is also a clear secular movement toward more global workforces - many of the human capital services companies that we cover are global and provide services that facilitate global expansion or the adoption of advanced HR and labor force practices in overseas markets.
In addition, payroll services companies are likely to benefit from rising wages and interest rates during a recovery - both factors would result in higher float income and an enhanced ability to pass along fee increases. Finally, there is a secular trend toward companies improving their HR departments - it is one of the last big areas that corporate America is starting to modernize to take advantage of technological advances.
About Mark Marcon and Baird's Equity Research Team
Mark Marcon is Baird's Senior Analyst covering the human capital services sector. Prior to joining Baird in 2005, Marcon was at Wachovia Securities for seven years, where he was a senior business services analyst specializing in the human capital solutions sector and also was director of Equity Research. He has been ranked in the top five for both stock picking and EPS accuracy by StarMine.com. He also was an analyst for four years at Cleary Gull Reiland & McDevitt covering the staffing, PEO and retail industries. Marcon received a BA degree in Economics from the University of Virginia and an MBA from the University of Michigan.
In addition to Marcon, Baird's senior business services research staff includes David Koning (Business Process Outsourcing), Amy Junker (Education Services), Michael Schneider (Facility Services), and Mark Bacurin (Marketing and Information Services). For a full list of the more than 500 companies covered by Baird, click here.
Baird was recently recognized for the quality of its investment research. Integrity Research rated Baird No. 1 in small cap research, and a Bespoke Investment Group (B.I.G.) survey found that Baird analysts' stock recommendations had the most impact on stock prices. In addition, Baird has been repeatedly well-represented on The Wall Street Journal's "Best on the Street" analyst survey rankings over the years. In the survey released earlier this year, based on 2006 performances, Baird was ranked No. 10 overall out of 85 research houses in terms of the total number of awards received. Seven Baird analysts also received 12 awards from StarMine earlier this year, ranking the firm third overall. Such results were based on 2006 data. StarMine is the most recognized firm in the industry for tracking earnings accuracy and stock picking results.
About Baird
Baird is an employee-owned, international wealth management, capital markets, private equity and asset management firm with offices in the United States, Europe and Asia. Established in 1919, Baird has more than 2,200 associates serving the needs of individual, corporate, institutional and municipal clients. Baird oversees and manages client assets of $77 billion. Committed to being a great place to work, Baird is one of FORTUNE's "100 Best Companies to Work For" in 2008 - its fifth consecutive year on the list. Baird's principal operating subsidiaries are Robert W. Baird & Co. in the United States and Robert W. Baird Group Ltd. in Europe. Baird also has an operating subsidiary in Asia supporting Baird's private equity operations. For more information, please visit Baird's Web site at http://www.rwbaird.com.