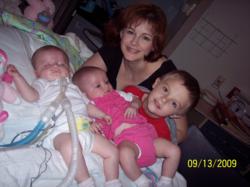 I can't imagine ever being so frustrated that I'd send my child away. But I can understand the level of desperation and frustration a mother can have, where you don't know what to do and where to go. (Christina Andrews)
Albuquerque, New Mexico (PRWEB) July 31, 2012
Christina Andrews is the mother of three children in Memphis, Tennessee. Her three-year-old daughter Kayla has a rare disease called Moebius Syndrome. This condition requires 24-hour skilled nursing care because of a tracheostomy, which allows her to breathe with the aid of a ventilator machine. In Tennessee, the only option for the Andrews family to get this care at home has been to choose to live in poverty in order to qualify for 24-hour nursing paid by Medicaid. Andrews said about Cameron's situation:
"I can't imagine ever being so frustrated that I'd send my child away. But I can understand the level of desperation and frustration a mother can have, where you don't know what to do and where to go."
Cameron and Andrews' situations both point out the critical need for more services in both Illinois and Tennessee. Andrews' quest has been to find the resources that will allow her to care for her daughter at home rather than placing her in an institution. Some states have opted to allow Medicaid to pay for in-home care for children who need hospital-level care or skilled nursing rather than covering these services only if they are provided in a hospital or skilled nursing facility. This option is known as a "Katie Beckett" benefit and is nicknamed for a child whose situation paved the way for this type of provision in many places. However, Tennessee does not have a Katie Beckett-type benefit. As a result, when Kayla was born, Christina said she and her husband were faced with five agonizing options to secure Kayla's care:
"Institutionalize Kayla. Give her custody to the state. Try to provide 24-hour one-on-one care ourselves (even though we have two other small children and my husband has a life-threatening medical condition himself), and risk criminal charges if something happens to Kayla, God forbid, and she dies. Get a divorce, so our income would be considered separately by Tenncare (Tennessee's Medicaid). Or have me stop working, limit my husband's income, step into poverty, and not have enough money to pay our bills. We chose the last option, and now Tenncare is paying for Kayla's nursing care at home. The irony is that caring for Kayla in our home costs the state much less money than it would to care for her in an institution. A recent week-long stay at a hospital was cost over $32,000, compared to 24/7 skilled, private-duty nursing at just over $7,000 per week. But we live hand to mouth, with a steady stream of creditors calling us, whom we can't pay, and our credit is not even in the toilet, it's below in the sewer. I adore my children – and the stress sometimes feels unbearable. Still, I can only handle this situation by taking it one day at a time and fighting for change."
Andrews recently spoke at a forum organized by Family Voices of Tennessee and the Tennessee Justice Center, advocating for the passage of a Katie Beckett-type benefit in their state. Family Voices of Tennessee is the Family-to-Family Health Information Center for Tennessee, and the state affiliate of National Family Voices. Such a provision, Andrews said, would allow Kayla continued care at home, while making it possible for Christina to go back to work, pay taxes, and begin digging her family out of the financial hole they've fallen into over the last three years.
This was the first contact Andrews had ever had with an F2F HIC. She commented:
"I wish I had known about this organization when I gave birth to Kayla. It's not easy to find information here about the options for parents of children with special health care needs and disabilities. If the hospital where Kayla was born had connected me with Family Voices, it could have saved me time, worry, and heartache because they would have hooked me up with other parents to talk to right away. That's what I needed most at that time – to talk to someone who would really understand. The hospital can't give out other parents' contact information because that would be a privacy violation."
In Indiana, Jennifer Akers' 14-year old daughter Grace has the same rare condition as Kayla. Jennifer and Christina met on Facebook through a forum for parents of children with Moebius Syndrome. Jennifer and her family, however, had more options to choose from than the Andrews family because Indiana does offer a Katie Beckett-type benefit to families who qualify. Jennifer said:
"At the time of Grace's birth, both my husband and I were teachers. I was able to leave my job for a while when Grace was an infant. However, my husband's teacher's salary was too much to allow us to qualify for the Medicaid services we need for Grace. So we were very fortunate that Indiana has a Katie Beckett benefit that allows us to provide this type of care at home."
Jennifer went on to say that her family is not trying to take unfair advantage of scarce resources.
"We just want to provide Grace with the supports she needs to thrive and become a contributing member of society. Allowing us to continue to work also means we can continue to pay taxes."
Jennifer added:
"When Grace was born, I felt very lucky to have a great social worker who told us about the services available and helped me get connected to them right away. At the time, there was no waiting list. As budgets tighten, that's no longer the case in Indiana."
Wanting to give back, and help other parents find the information they need, Jennifer and her friend Rylin Rodgers approached Family Voices Indiana in 2005 and began volunteering. She said:
"Why should another parent struggle through an unfamiliar system when I can explain it to them in a way they can understand, parent to parent?"
In 2011 Family Voices Indiana became the Family-to-Family Health Information Center for that state, and Jennifer was hired as the Project Coordinator, training parents throughout Indiana to help other parents. She commented:
"We need an F2F HIC in each state to help local parents because the services are often different in each state. The Katie Beckett benefit is one example."
Ironically, in the location where Eva Cameron's story began, Illinois, the Katie Beckett benefit is currently in jeopardy. The state government is considering changes that would drastically reduce the number of parents and children who are eligible. Faye Manaster, Project Director of Family Voices of Illinois, The Arc of Illinois Family to Family Health Information Center, commented:
"If the current proposals get put into place many more medically fragile, technology-dependent children will be forced out of their parents' homes and into institutions. This will actually cost the state more money, rather than save money, and break up families. So it's a no-win situation all the way around. We are working on both a national and a state level to advocate for maintaining the Katie Beckett benefit in Illinois as it currently exists. We also continue to advocate for the more than 10,000 children with developmental disabilities who remain on a waiting list for waiver services."
National Family Voices Board Chair, Ruth Walden summed up these issues in this way:
"The Family-to-Family Health Information Centers are critical in giving parents the information they need to make the best choices for their children with special health care needs and disabilities. Making this information available to parents actually saves state and federal dollars. The F2F HICs need to stay funded at current funding levels – and ideally receive more funding for outreach so they can connect with more parents who need their services. Likewise, provisions like the Katie Beckett benefit need to be supported at a state and federal level – because this offers better services for children, and saves precious state and federal dollars. The federal and state governments are trying to save money – but cutting information services for parents and in-home care services for CYSHCN and disabilities is not the answer."
Please also see Part One of this two-part series of articles, released by National Family Voices July 31, 2012.
Article located at ChicagoTribune.com:
"Chicago-area mother says desperation led her to abandon disabled daughter in Tennessee: Algonquin woman says she couldn't cope with 19-year-old's disabilities or mounting cost of caring for her. But not everyone is sympathetic to her plight." By Lisa Black, Chicago Tribune reporter, July 23, 2012