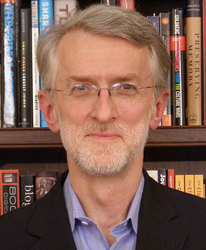 My keynote, like my book, isn't really about Google
Chicago, IL (PRWEB) August 26, 2009
Search Engine Strategies, the world's premiere search engine marketing conference series, will be returning to the Windy City for the annual SES Chicago event. It will be held at the Hilton Chicago, December 7-10, 2009.
Headlining the conference's keynote speakers is author Jeff Jarvis, best known for his journalistic contributions to TV Guide, People Magazine, Entertainment Weekly, and more recently for his blog, Buzzmachine. He recently completed his first book, What Would Google Do?, which presents ideas for surviving and succeeding in the current iteration of the Internet age using Google as a model for success.
"My keynote, like my book, isn't really about Google," said keynoter Jeff Jarvis, author of What Would Google Do?. "It will be about the profound changes in the economy and society brought on by the Internet -- as seen through the success of the one company that has figured out and exploited them better than any other: Google." This audience, Jarvis said, is already at the forefront of understanding the power of search and the Internet to directly connect companies and customers in every industry. "We'll have fun discussing the impact of search and the Google economy on every sector from media to advertising to restaurants to government," he continued. "I look forward to talking with and hearing from SES Chicago's attendees."
Matt McGowan, Vice President and Publisher for Incisive Media's Interactive Marketing Group, including Search Engine Strategies, Search Engine Watch and the ClickZ Network, remarked, "Jeff is one of the bigger names we've had to speak at SES--any SES--in a long time, and we are delighted to have him. Here we have a guy that's been in the journalism business for more than 35 years, and who's been a blogger since before anyone knew what a blog was. I don't think there's anyone out there who won't be fascinated by what Jeff has to say."
McGowan added, "Jeff Jarvis, of course, is just the beginning of the show. We have two other great keynotes, plenty of panels, exhibitors, parties--the list goes on and on. I know it's a little early, but I think there's a strong possibility that this could be the best SES Chicago ever."
Now in its 7th year, Search Engine Strategies Chicago is organized and programmed by the SES Advisory Board and Search Engine Watch, the leading authority on Search Engine Marketing. The event, which is the largest search engine marketing conference and expo in the Midwest, will be packed with dozens of sessions, multiple keynotes, hundreds of exhibitors, and networking events. For more information about SES Chicago and to register for the conference, visit http://www.searchenginestrategies.com/chicago/.
About Jeff Jarvis
Jeff Jarvis is one of the most provocative and optimistic voices weighing in on the future of media, technology and business today. At the forefront of the media world for over two decades, Jeff is author of What Would Google Do?. He writes about media, technology and business on his blog, Buzzmachine.com. He also writes a new media column for The Guardian and is host of its Media Talk USA podcast. Jeff is associate professor and director of the interactive journalism program at the City University of New York's new Graduate School of Journalism. He is consulting editor and a partner at Daylife, a news startup. Until 2005, he was president and creative director of Advance.net, the online arm of Advance Publications. Prior to that, Jarvis was creator and founding editor of Entertainment Weekly; Sunday editor and associate publisher of the New York Daily News; TV critic for TV Guide and People; a columnist on the San Francisco Examiner; assistant city editor and reporter for the Chicago Tribune; reporter for Chicago Today.
Jeff consults and has spoken for a number of media companies - including the Guardian, News Corp., USA Today, VH1, Sky.com, The New York Times, Burda, Advance Publications, Hearst-and major brands-including GM, Nike, Avaya, Chrysler, Estée Lauder, Starcom, and Edelman.
About SES
Incisive Media's Search Engine Strategies is a leading global conference and training series focused on search engine optimization and search engine marketing. Other Incisive resources for interactive marketers include the ClickZ network for digital marketing news, information, commentary, advice, opinion and research and Search Engine Watch which provides news and information about search, analysis of the search engine industry and tools for improving search marketing effectiveness.
Incisive Media is a leading global provider of specialized business news and information, in print, in person and online. The company's principal markets include financial services, legal services, commercial real estate, marketing services and risk management. Incisive Media's market-leading brands include Accountancy Age, Computing, Investment Week, Legal Week, LegalTech, Post, Real Estate Forum, Risk, Search Engine Strategies and The American Lawyer. For more information, visit http://www.incisivemedia.com
###