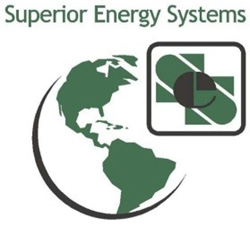 Everything you need to refuel, track and manage usage, and train drivers is contained within this box.
CLEVELAND (PRWEB) October 09, 2014
Superior Energy Systems, best known for seamless propane terminal installations, has engineered a new propane autogas fuel dispenser featuring a secure, web-based fuel management system.
The PRO-Vend 2000 allows customers to easily track driver identification and vehicle mileage. It can also create customizable reports without the need to purchase and install separate technology.
A self-contained, touchscreen system makes refueling a simple process. A built-in refueling training video is available for drivers that need a little extra assistance. Drivers can easily refuel with a credit card or access number.
"One of the things we're most excited about is how fully integrated the PRO-Vend 2000 is," said Mike Walters, vice president of safety and training for Superior Energy Systems. "Everything you need to refuel, track and manage usage, and train drivers is contained within this box."
The new dispenser is already getting high marks from users.
"This dispenser is a game-changer for the autogas industry," said Steve Krepop, account manager at AmeriGas, the largest propane supplier in the United States. "The system is so easy to use — and there is immense value having a refueling training video built right in."
The turnkey unit, which uses a zero emission fuel nozzle, complies with all applicable National Fire Protection Association (NFPA) standards and is also listed by Underwriters Laboratories. This means the PRO-Vend 2000 can be added to any existing fuel station.
Due to virtually unlimited tracking ability, the dispenser's card-reading unit can be used for public or private stations.
"No additional wiring or infrastructure is needed to install one of these dispensers," Walters said. "If you have Internet access, you can connect to this state-of-the-art system."
About Superior Energy Systems, Ltd.:
For more than 40 years, Superior Energy Systems has supplied propane infrastructure and services. We bring together engineering, manufacturing and construction expertise while focusing on operational excellence and turnkey systems. We build made-to-order propane vaporizers and mixers, portable and permanent rail towers, metering and odorant skids, and propane autogas dispensers. We have manufactured more bulk plants and trans-shipment terminals throughout the United States than any other company. Visit us at our Cleveland headquarters or learn more at superiornrg.com.